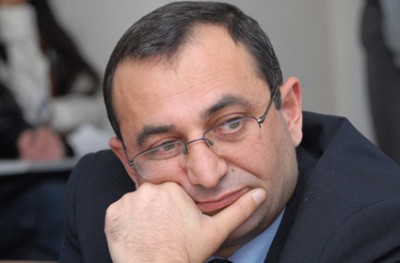 [1]
In an interview with 1in.am, ARF-D Member of Parliament, Deputy Chairman of the Standing Committee on Financial, Credit and Budgetary Affairs of the Parliament, Artsvik Minasyan said that a second economic crisis is possible and will emerge not in the real estate sector, such as previously, but in the financial one and in particular in the foreign debt area. As a result, national economies will face new challenges in the markets. Armenia's economy, due to this government's policy is highly sensitive when it comes to international changes and that will probably have its negative, major impact on the Armenian economy as well.
The government has to address this issue by rapidly including the foreign debt in the economy. Minasyan stressed out that Armenia's foreign debt has grown 3 times more, yet it did not show in the real economy because the majority of the capital is accumulated in the banks, while no investments have been made in the real economy. This means that the procedure of financing the economy must be facilitated starting from the taxation all the way to concrete state interventions.
Answering a question on the Prime Minister's statements about economic growth, the ARF-D MP underscored that if one takes a look at the current economic structure and the government's forecasts, they will see that even in 2014 the construction sector will be replaced by the not less risky sector of services, which according to the government's plan will be 40% bigger. According to Minasyan, this is a sign of how much exposed the Armenian economy is to international changes.