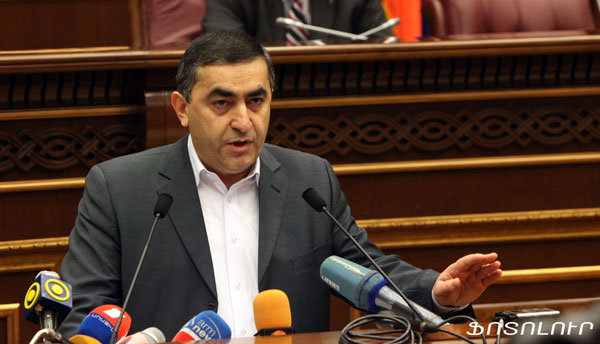 [1]A closed-door session between Armenia's Foreign Minister, Edward Nalbandyan and members of the Parliament was held on September 10 where Armenia's decision to join the Russian-led Customs Union was discussed. Head of ARF-D Parliamentary Faction, Armen Rustamyan spoke to media representatives about the three questions he posed to FM Nalbandyan.
The first one was about Mountainous Karabakh's security and what will its place be in the CU process. Nalbandyan reassured that entering the Customs Union won't harm the security of Mountainous Karabakh. The second question concerned Armenia's commitments. Nalbandyan said that there are commitments undertaken by Armenia but he didn't elaborate on them. It is not clear if in the future those commitments will be incompatible with Armenia's WTO membership, Rustamyan said. Thirdly, the ARF-D member asked to know about whether the conversion of the Eurasian Customs Union into a political entity would have Armenia reconsidering the European vector. Nalbandyan didn't reply to this question.
The ARF-D member underlined that there is a clear move from the European dimension to the Eurasian Customs Union, as a political entity. "Not realizing this fact, will lead us to new mistakes" he said. Asked about if joining the Customs Union was a vital necessity, Rustamyan replied that no-one can argue that in the security and energy spheres Armenia has another alternative than Russia. "This is the truth, unfortunately. But why wasn't anything done so as to have an alternative?" he wondered.