(asbarez.com) LITTLE ARMENIA—On the occasion of International Women's Day, community members gathered to celebrate the diversity and strength of Armenian women–past and present–during a March 5 event Armenian Women: Resisting, Rising, and Reframing, organized by the Armenian Youth Federation's United Human Rights Council and the Hollywood "Musa Ler" Chapter.
Held at Hollywood Armenian Center, the event displayed biographies of Armenian women past and present, spotlighting their contributions to Armenian women's history.
The event was commenced by the UHRC Chairperson Christina Mehranbod, who conveyed the objective of the event as a celebration of the legacies of Armenian women in history and its reflection on Armenian women today.
"My friends used to say I was lucky," Mehranbod shared. "I was lucky to have parents that did not talk about getting married, or ever used to the word amot to describe disappointment in their daughters."
"But the reason we host events like this is so that one day our generation and the next generation will not be considered lucky to have parents that embrace gender equality. It would be considered the norm, she continued. "It would be the norm to be different, to be powerful, and to break all boundaries that hold us from reaching our maximum potential."
After the opening remarks, Nare Kupelian, PhD candidate at UCLA and member of the Armenian Revolutionary Federation's ARF Shant Student Association, gave a history of International Women's Day and its evolution.
"At its inauguration, International Women's Day was designed to honor and celebrate female economic, political, scientific, and cultural achievements," Kupelian said. "It was designed to merge women's rights with worker's rights, urging equal rights for women in the workplace, access to higher pay, and normalized working hours."
She explained that the day's socialist and political roots were mutated beyond its original designation. Today, in most countries, International Women's Day has lost its political flavor and has become a hybrid of Valentine's Day/Mother's Day, which the event strived to change.
The earliest observance of International Women's Day was in 1909 in New York, as a commemoration of the strike of the International Ladies Garment Union in 1908. Yet, the designation of March 8th as International Women's Day took root during the February Revolution in St. Petersburg, Russia. On March 8, 1917, demonstrations on Women's Day led to the initiation of the Russian Revolution when four days of demonstrations ensued and the Russian Army sided with the revolutionaries and led to the abdication of Tsar Nicholas II. In Armenia, March 8th is celebrated along with April 7th, as the Day of Beauty and Motherhood. The days in between March 8th and April 7th are designated as Women's Month in Armenia.
Kupelian's presentation was followed by eighteen Rose and Alex Pilibos Armenian School students reading notable Armenian women's' thoughts, reflections, and ideas in their contribution to shaping education.
The event continued with Nora Hovsepian, Armenian National Committee-Western Region Chairperson, who spoke about the interconnectedness of fighting for the Armenian Cause and how women play a diverse role in accomplishing that task [2].
"It is not easy to be Armenian, especially in the Diaspora, and we can choose, if we want, to forget about our national identity, assimilate, and have much simpler lives, relayed Hovsepian. "But in reflecting on the sacred mission of the Armenian mother in our life, in reaffirming our deep love and respect for her, and in reminding her, in reminding ourselves, of the importance of maintaining our unique role and true image, we must choose this more difficult path because to our proud Nation, we certainly owe nothing less."
Hovsepian concluded her speech with an empowering message: "You have it within you to be bold, fearless, passionate and committed to yourselves, your families, your community, and Hye Tad, all at the same time. And when you do, I, along with my sisters, will see you in the trenches."
Proceeding, a traditional Armenian women's dance was performed by AYF Glendale "Roupen" Chapter member Lori Shirajian.
Activist and counselor at AGBU Manoogian-Demirdjian School Nora Kayserian spoke of her continued fight to defend women's rights through self-defense [3]. Kayserian in founded Yerevan's branch of SheFighter, the country's first women's self-defense program. "My challenge [with SheFighter] was a lot greater than just getting women to class," she said. "The challenge was breaking gender stereotypes that have been embedded into our lives since we were born in a country that upholds the idea that the family must be preserved at all costs."
Kayserian said that teaching self-defense became a very concrete way of encouraging resistance. "Resistance to the patriarchal system that insists that men are inherently dominating, superior to women and endowed with the right to rule over them. This idea of power is not natural; we cannot possibly look at things as they are and have been, and be okay with it."
The UCLA graduate and member of the ARF Shant Student Association noted that everyone contributes to sexism in some way, shape, or form.
"We've all learned to do it, which means we can all unlearn to do it as well, Kayserian concluded. "The fight for women's liberation doesn't start and end on international women's day–it's a daily struggle that needs more angry feminists."
Prior to the Aya Ensemble's dance performance, group member Natalie Kamajian revealed the goals of the dance group, described the significance of the group's namesake, and provided brief descriptions of their performed dances.
"Through this ensemble, we practice the tradition of Armenian ethnographic music and dance," Kamajian said. "Teaching and learning through oral traditions, we aim to preserve Armenian cultural heritage which has been passed down in this same way for centuries."
Literally meaning "great-grandmother," the group's name "Aya," represents sunrise, fertility, love, water, encompassing the concept of Mother Earth and "mother goddess."
Aya Ensemble danced Madzun Em Merel, a traditional women's folk dance born from communal yogurt-making, and two military dances, Msho Khr from Western Armenia's Mush inspired by the movements of horses, and Karno Kochari from–Karin or Erzurum–personifying battling rams.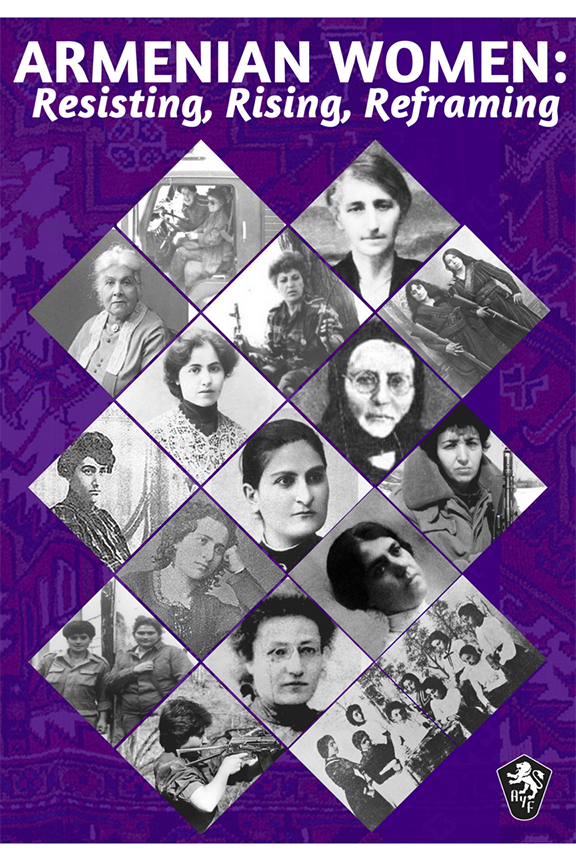 [4]Following the performance, Elia Bilemjian, an AYF member and part of the event's organizing committee, conveyed his message [5] as an ally to the women's movement. "As a man who believes in equality, I am sick of my fellow female Armenian peers customarily being confined to the one-dimensional roles of մայր, քոյր, աղջիկ, կին — or mother, sister, daughter, wife — over and above anything else they may be," he stated.
"If we all just blindly follow what we are told is manly, if we just adapt to these narrow restrictions, if we just follow the path of least resistance, we become nothing more than a set of social cues, not a real, live person."
During his message, the AYF San Fernando Valley "Sardarabad" Chapter member stated that he feels embarrassed to express more emotion than is expected from his gender. "It can feel difficult for us sometimes to open up and discuss issues, anxieties, and feelings with others, but that shouldn't be the case," Bilemjian said, adding that "emotional intelligence is crucial for men as well as women; suppressing feelings can be harmful for our health and strain our relationships with others."
"Coping with anger, sadness, and shame should not mean locking it up inside. As we transform beyond these self-imposed limitations, we will all thrive as one."
Bilemjian further announced the upcoming establishment of the AYF-UHRC's educational toolbox aimed at capturing crucial themes within the realm of social issues, which includes but is not limited to the hidden presence of diverse women in society and how to approach masculinity through honest and flexible lenses.
A video message by comedian Mary Basmadjian ensued, who spoke about the challenges she has faced as an Armenian woman within her profession. She is known by the community as "Funny Armenian Girl" and regularly makes fun of stereotypes of an Armenian female.
Dr. Talar Chahinian–a Ph.D. in Comparative Literature and lecturer in the Department of Comparative World Literature at California State University, Long Beach–told her story of pursuit of fighting against the dominating patriarchal system [6]. Despite her efforts in trying to defy the patriarchy's narratives and definitions, Chahinian professed that she has failed to do so.
Chahinian connected the Armenian women's struggle as an intersection with ethnicity, race, class, religion, and sexual orientation.
"We cannot critique patriarchy without confronting the misogyny embedded within nationalist narratives or without framing cultural nationalism within the larger context of imperialism and power dynamics of the world," she affirmed. "We cannot critique patriarchy without calling into question the heteronormative behavior it mandates or without revising our understanding of a nuclear family. We cannot champion women's rights while condoning homophobic behavior. We cannot champion women's rights while we invest in capitalist systems that don't compensate for women's labor equally. We cannot champion women's rights while supporting institutions that support racism."
"Otherwise, our efforts of resistance will be futile, for they will further enslave young generations of women with a bankrupt model of 'being all' and 'doing it all.' Let's not be afraid to dismantle and rebuild… or as today's program title suggests, let's not be afraid to resist, rise, and reframe!"
Registered marriage and family therapist intern Alina Havtevani, representing the Armenian Relief Society's Child, Youth and Family Guidance Center spoke of the center which provides services to children, adolescents, and adults through individual, family, couples, group, and child therapy.
The center's focus is to help individuals overcome challenges and obstacles in their lives, to guide them toward their journey to self-awareness, self-growth and self-actualization, stated Havtevani. "The center further aims to address the cross-generational and cultural proponents which add a layer of complexity in treating our Armenian population."
"A large portion of the center's clients are Armenian women struggling with a variety of issues," Havtevani said during her presentation. "The center helps our clients rebuild their self-esteem, re-examine their self-worth and help them learn skills and strategies which will help them enjoy a more meaningful and fulfilling life."
The UHRC and the AYF's Hollywood "Musa Ler" Chapter sold t-shirts during the event, where all proceeds will be donated to ARS's program. T-shirts will be available for sale online soon.
The United Human Rights Council (UHRC) is a committee of the Armenian Youth Federation. By means of action on a grassroots level, the UHRC works towards exposing and correcting human rights violations of governments worldwide, and aims to foster dialogue and collaboration between peoples who share this common vision.
Founded in 1933 with organizational structures in over 17 regions around the world and a legacy of over eighty years of community involvement, the Armenian Youth Federation is the largest and most influential Armenian-American youth organization in the world, working to advance the social, political, educational, and cultural awareness of Armenian youth.
By LORI BOGHIGIAN