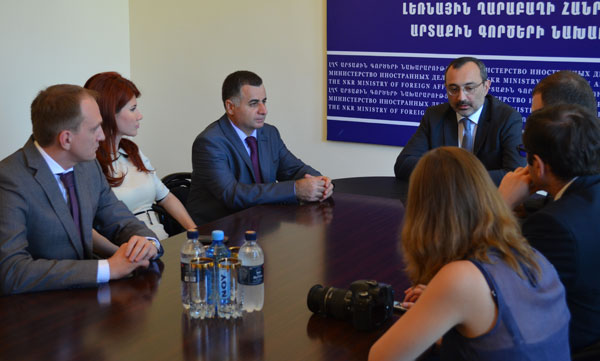 [1]On August 26, Minister of Foreign Affairs of the Mountainous Karabakh Republic, Karen Mirzoyan received a group of Russian journalists and public figures who were in Stepanakert on a visit.
The Head of the MFA welcomed the members of the delegation and stressed the importance of such visits in forming of the truthful and objective picture of the MKR and political and economical processes taking place there in the Russian society.
During the meeting Mirzoyan briefed on the current stage of settlement of the conflict between Azerbaijan and Mountainous Karabakh and answered to the numerous questions concerning prospects of the conflict resolution, regional developments and relations between the MKR and Russia.
The visit was an initiative of the Moscow office of the Armenian National Committee. Participating in the delegation was also the Head of the ANC Moscow office, Yura Navoyan.