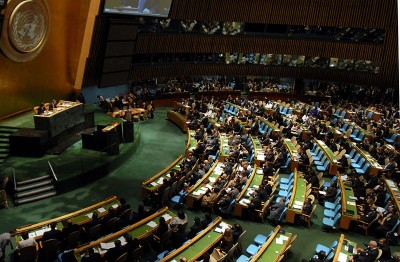 Baku's initiative to place a new resolution on the United Nations General Assembly agenda is evidence that Azerbaijan is trying to get the peace process out of the OSCE Minsk Group's control, Giro Manoyan, director of the ARF-Dashnaktsutyun international secretariat, told NEWS.am on August 26.
The draft resolution, which the General Assembly is expected to discuss on September 9, upholds the right of Azerbaijanis "expelled" from Karabakh and Armenian-controlled territories surrounding it to return to their homes. It also urges the Organization for Security and Cooperation in Europe to send a fact-finding mission to the conflict zone that would investigate the conflicting parties' compliance with "international humanitarian law."
"Azerbaijan is well aware of the fact that the OSCE Minsk Group's proposals underline the impossibility of Nagorno-Karabakh being a part of Azerbaijan," Manoyan said. "That is the reason for Baku's attempts to get the Nagorno-Karabakh peace process out of the OSCE Minsk Group's control."
He stressed that by approving the resolution the UN General Assembly may provoke new hostilities in Nagorno-Karabakh, as Azerbaijani leaders may interpret the decision as the international community's approval of its policy.
Similarly, the Armenian Foreign Ministry also said, that if adopted the resolution would cause serious damage to the international efforts to end the Karabakh dispute.
With regard to the possibility of the General Assembly approving the resolution, Manoyan said that each UN member-state votes in its own national interests. "So the OSCE Minsk Group member-states must be more active to prevent the adoption," he said. The ARF member also urged Armenian political forces and foreign offices to be more proactive.