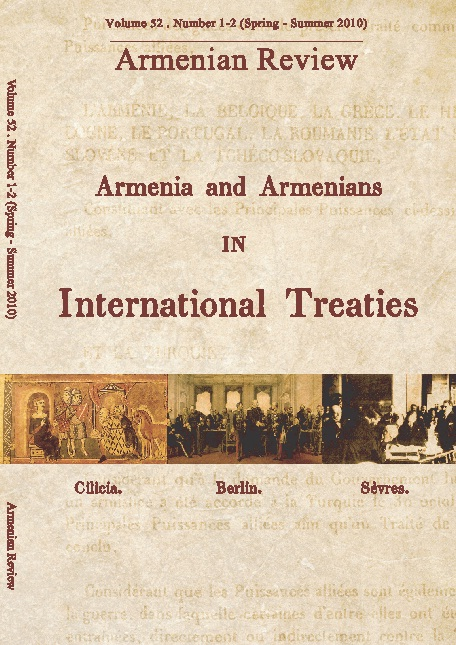 The Spring-Summer 2010 issue of the Armenian Review was released earlier this month. Titled "Armenia and Armenians in International Treaties," the new issue examines the history and performance of Armenian diplomacy throughout the ages. The nine articles appearing in this volume explore treaties that Armenians have been involved in from the 4th century CE to the modern day Republic of Armenia, which were presented at a conference held at the University of Michigan, Ann Arbor in March of last year.
The 264-page issue includes: Claude Mutafian's examination of the various treaties signed between Cilician princes and their neighbors from the 10th to the 12th centuries; Keith David Watenpaugh's exploration of the origins of Turkey's denial of the Armenian Genocide, tracing it back to the confrontation with the League of Nations; An article by Sevane Garibian which traces the development of international criminal law by looking at how the Armenian Genocide was dealt with in the early part of the 20th century, ranging from the 1915 Allied Joint Declaration condemning the Armenian Genocide to the treaty of Sevres; Rouben Shougarian's analysis of the 1997 Treaty of Friendship and Cooperation between Armenia and Russia; And Lusine Taslakian's research on environmental treaties signed by the modern day Armenian republic, and how their provisions are being implemented. The issue also includes several book reviews.
The next issue of the Armenian Review is scheduled for winter 2010. To find out more about the current, past, or upcoming issues, visit www.armenianreview.org.
The Armenian Review has also started digitizing all of its past issues, going back to 1948, which should be available to the public by summer 2011. To support this effort and for more information please contact the editor at [email protected].
Other than the publication of these issues, the journal is in the process of co-organizing an academic conference to be held in Southern California in December of this year, examining 120 years of Armenian Revolutionary Federation's activities. The conference, to be held at a major university, will feature scholars and academics from Armenia, Middle East, Europe and the United States. More information will follow.