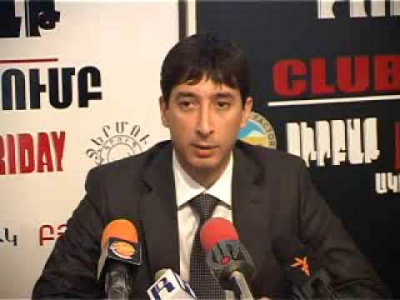 "We can become a country with its own voice in this region and to achieve that we must properly evaluate the issue of our country's competitiveness. We are committing a big mistake when we compare our state's competitiveness with the republics of the South Caucasus, something which is leading us to an impasse and preventing political, economic and social development," said ARF-D parliamentary faction member Ara Nranyan to reporters during a press briefing on October 14.
According to the parliamentarian, it is not possible to limit ourselves by trying to define with what standards Armenia is more competitive than Georgia or Azerbaijan. We must be guided by the experience of developed countries and must not compare the country's economic and social development with other countries in the region. Nranyan went on to say that in the last several years Armenia has had to face two major issues; normalization of Armenian-Turkish relations and the financial crisis both of which have bared the country's economic and foreign policy shortcomings. "Although everyone has evaluated these issues negatively, I want to note the positive side – our society has finally taken off its rose-colored glasses and is now looking at economic, political and social issues more somberly," he said.
The ARF-D parliamentarian stressed that we must move toward building a nation-state and to do that it is necessary to have a national foreign policy, something which "will elevate Armenia's prestige in the world and improve the moral and spiritual situation in society." According to Nranyan, competitiveness must be achieved through three processes. The first, strengthening democracy, moving away from feudalism and going toward the process of nation building where all citizens are equal. Secondly, the rehabilitation of national orientation, something which assumes a return to real politics and when cooperating with other countries means not violating your national interests, but the opposite, and lastly securing political and economic development for the next several decades.
"In Armenia, everyone is displeased with their quality of life. The poor and the rich are both living in tension, without seeing a positive future and each member of society is living for him or herself and not for society in general. We do nothing for the next generation. We need to have a generation, which is ready to sacrifice in the name of future generations," Nranyan noted.
Regarding the 2011 state budget, Nranyan said, "With such a budget, we will not see any change and will not have any progress." In his opinion, whatever is included in the 2011 draft budget – diversification of the economy, developing the export sector – should have been realized years ago. The budget does not contain the mechanisms with which it will be possible to diversify the economy and improve the business atmosphere noted the parliamentarian.
An economist, Nranyan, argued that with its draft budget the government "continues a stagnant economic policy." "This budget once again proves our argument that the government did not want to use the opportunities held out by the economic crisis to make painful, but drastic reforms that are needed, in other words to change the economic structure and the structure of GDP," said Nranyan.