YEREVAN—The Armenian Revolutionary Federation-Dashnaktsutyun parliamentary bloc voiced its opposition to a bill approved Tuesday which slightly increased the monthly minimum wage in Armenia, saying the increase was insignificant.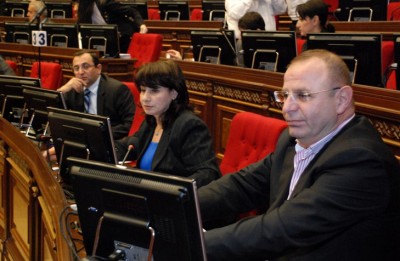 The parliament approved a government-backed bill, which increased the wage from 30,000 to 32,000 drams ($90)
The ARF urged for a sharper increase, calling on state and private employers to pay workers no less than 55,000 drams. An ARF-Dashnaktsutyun bloc member Artsvik Minasyan, said it will introduce legislation to address the party's concerns.
Speaking to RFE/RL, Minasyan asserted that the government could double the state budget if it pursued "correct economic policies." He specifically called for a genuine government crackdown on the informal sector of the Armenian economy and other manifestations of tax evasion.
The increased figure will still be well below the cost of the official minimum consumer basket that currently stands at 41,500 drams. The Armenian government had pledged to gradually raise the minimum wage to that level by 2012.
According to the National Statistical Service (NSS), the country's average monthly wage rose by 8 percent to just over 106,000 drams ($295) in the first nine months of this year. The increase was effectively nullified by higher-than-expected consumer price inflation.