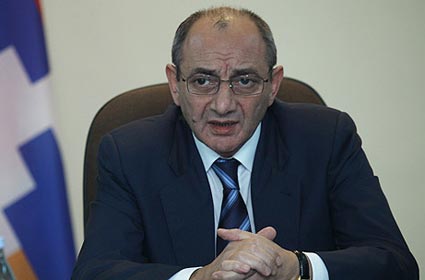 STEPANAKERT–Today, President of the Republic of Artsakh (Mountainous Karabakh) Bako Sahakyan met with members of the Artsakh Central Committee of the ARF Dashnaktsutyun, led by chairman of the organization David Ishkhanyan.
Domestic and foreign policy of the country were discussed during the meeting.
President Sahakyan presented the achievements of the past year and the challenges facing the republic. The president stressed the cooperation with the ARF-Dashnaktsutyun and the achievements that such cooperation has resulted in.
The ARF-D Artsakh Central Committee members echoing the importance of cooperation, also expressed some concerns regarding several aspects of state policy being conducted in the republic. In order to improve the situation, the ARF-D representatives proposed the formation of working groups, to study the problems and discuss the proposals at conferences.
The president appreciated the expressed concerns and proposals and promised to take concrete steps in that direction.