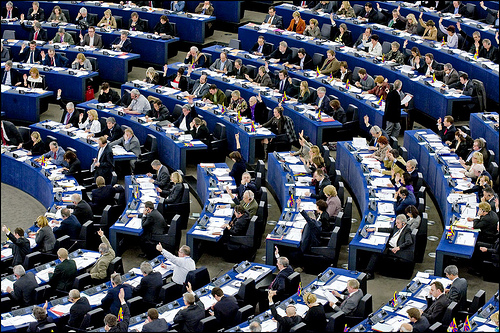 YEREVAN (ARF Press Office)—Armenian Revolutionary Federation-Dashnaktsutyun parliamentary faction leader and ARF-D Bureau member Vahan Hovhannesyan, during the meeting of the Bureau of the Parliamentary Assembly of the EU "Eastern Partnership" (Euronest) on January 25 and 26 presented his proposal for the advancement of the European Union's Eastern Partnership initiative.
The Euronest Parliamentary Assembly is the parliamentary component of the proposed Eastern Partnership and consists of members from the European Parliament and the parliaments of Ukraine, Moldova, Belarus, Armenia, Azerbaijan and Georgia.
At the session, Hovhannesyan explained that while the six member-states of the Eastern Partnership initiative all have expressed their interest in European integration, issues still remain over each state's level of intention and the opportunities for realizing those objectives, which he said differ from state to state.
"If for one moment we set aside the doubts toward Euronest and look at it as a true bridge toward the European Union, then we must realize that everyone cannot pass the bridge at the same speed," said Hovhannesyan, who is the leader of the Armenian delegation to Euronest.
In his assessment, Hovhannesyan outlined that while the European Parliament members represent different political factions, Euronest member represent their respective countries. This, he said, creates differences in approaches and expectations.
The ARFD Bureau member suggested a possible revision of the Euronest structure to reflect the structure of the similar Euro-Mediterranean Parliamentary Assembly, which is represented by 45 European Parliament members and 75 EU national parliament members. Hovhannesyan said that would be a more beneficial model and ensure parity in representation.
These suggestions stemmed from a call for the inclusion of Belarus in the Eastern Partnership Program and Euronest, a proposal the European leaders of Euronest rejected. However, Hovhannesyan's suggestion to continue the process to include Belarus in Euronest—a suggestions shared by the Ukraine representative—was adopted by the Bureau of the Euronest assembly. The assembly also adopted Hovhannesyan's proposal to reform organizational structure of Euronest.