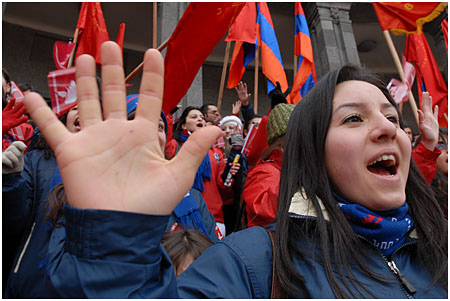 YEREVAN—The Armenian Revolutionary Federation-Dashnaktsutyun on Today called for a broad and concerted movement to define and defend "Voters' Rights" in Armenia.
The movement was outlined by the ARF's Supreme Council of Armenia chairman Armen Rustamyan at a press conference in Yerevan.
"The defense of all political and civic rights begins with the defense of voters' rights," said Rustamyan who explained the movement seeks to bring together different forces to combat election fraud and violations.
The ARF-Dashnaktsutyun leader outlined that the movement will have two objectives: to show the authorities that there are forces that are willing and ready to fight against election violations and to call on the public not to sell their votes and not to accept violations as a norm.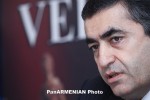 Rusatmyan said the campaign will seek to abolish the presidential form of government in favor of a parliamentary one and will end immunity for members of parliament so people do not seek seats in the legislature as a means to hide behind the immunity it provides.
"It is absolutely not important who the voter will vote for. It is important for the person to vote," said Rustamyan, explaining that past experiences and incidents have shown that the voter in Armenia does not take his/her vote seriously and easily gives in to pressures to either sell their ballot or yielded to others.
"The only way to contain the authorities' leverage on the elections is by creating a large-scale popular movement," said Rustamyan.
He added that the ARF-Dashnaktsutyun is calling for regime change, which will only happen through a massive movement by the population. This movement, Rustamyan pointed out, will have two targets: the leadership, which will be warned, and the electorate, which must understand and comprehend the importance of voting rights.
"The movement is multi-faceted. It will have a political, legal, and, most importantly, a monitoring aspect," said Rustamyan.