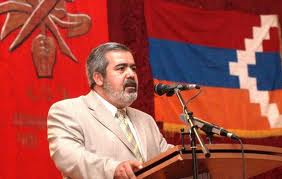 Former President Robert Kocharian could return to the political arena ahead of Armenia's next presidential election due in 2013, a leader of a major political party that supported him during his rule said on Wednesday.
"Political forecasts is not a good thing, but I think that Robert Kocharian will become active after the [2012] parliamentary elections," Hrant Margaryan of the opposition Armenian Revolutionary Federation (Dashnaktsutyun) told RFE/RL's Armenian service in an interview.
Margaryan said Kocharian may well come out of retirement if he sees "some danger, some threats facing the country."
"I don't want to speculate in what capacity [he would return,]" he said. "But I think that in countries like Armenia real government and policy changes are unfortunately conditioned by presidential elections."
Kocharian could run for president or back another presidential candidate in 2013, speculated Margaryan.
The 56-year-old ex-president handed over power to Serzh Sargsyan, his longtime political ally, after completing his second and final term in office in April 2008. There have been indications of growing friction between the two men in recent months.
In an interview on Monday, Kocharian expressed concern about Sargsyan's unfolding dialogue with the opposition Armenian National Congress (HAK) led by another former president, Levon Ter-Petrossian. He warned of a possible "collusion" between the government and the HAK which he said would harm Armenia.
Armen Rustamyan, another Dashnaktsutyun leader, had similar worries in a recent interview with RFE/RL's Armenian service. Rustamian said ordinary Armenians will probably "gain nothing from that dialogue."
Dashnaktsutyun backed Kocharian and was represented in his governments throughout his 1998-2008 presidency. The nationalist party has been in opposition to the Sargsyan administration since April 2009. It is also at loggerheads with Ter-Petrossian's HAK.
Margaryan suggested that Sargsyan might decide to "weaken" Kocharian as part of a possible deal with the HAK.
"I don't think that Robert Kocharian wants to come back but is not allowed to do that," said the Dashnaktsutyun leader. "He is not the kind of person who needs permissions. He may be pondering on the expediency of his comeback and whom it would benefit and hurt and what his chances of success would be."
Ruzanna Stepanian
RFE/RL