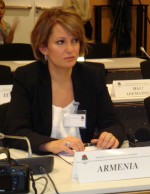 The Director of the Hrayr Maroukhian Foundation, Maria Titizian in an interview with Yerkir daily's Maria Karatorosyan announced that the Foundation will soon be publishing the first volume of the "Socialist reforms in Armenia" series which will include the strategy for the forthcoming 20 years in the sectors of employment, housing and public health. About the latter in particular, Titizian pointed out that public health should be a priority for a state which should secure access for all parts of population.
Titizian also said that the study will be translated in English and the book presentation will take place on November 8.
Three more studies will be conducted on agriculture, mining and education. According to the HMF Director, these studies are interesting because they have a socialist approach. They can also serve as a roadbook for the state; all it needs is for the government to adjust its policy to the study.
"Our Constitution proclaims that Armenia is a socialist state so we must try to build such a state where each citizen can feel protected and doesn't have to turn his glance abroad to look for his future in other countries. I am still convinced that if our citizens feel tendered and justice is done then the number of immigrants won't be this high".
Titizian is well aware that the HMF's initiative won't change Armenia overnight. "However I think, this can be a drop in our social conscience, changes will come only after we exchange ideas. If we show collective will power then we'll be able to bring changes in the country".
The Hrayr Maroukhian Foundation is planning a range of activities in order to elaborate what ARF-D means by "socialist state" or "social democracy".