Nranyan: ARF-D will assess the draft law on taxation after the final version is out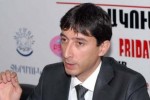 ARF-D Member of the Standing Committee on Economic Affairs of the Parliament Ara Nranyan stated that ARF-D reserves the right to assess the draft law on taxation after the government publicizes the final version. Nranyan also said that the government has agreed to some principle suggestions made by ARF-D and omitting some controversial parts. The MP added that taxes should rise according to the economy's ups and downs. Taxes increase should not take place on small and medium businesses or on socially challenged people's account.
The government's economic policy has failed, says Minasyan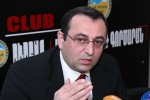 ARF-D Member of Parliament and Deputy Chairman of the Standing Committee on Financial, Credit and Budgetary Affairs Artsvik Minasyan debating in a press conference said that the taxation policy must be separated from the state budget because the first one is of long term while the budget will run only for 2012. "The economic policy that's been put in practice by the government has failed and no one can say otherwise" said Minasyan.
Nranyan believes that low income policy is harmful
ARF-D Member of Parliament Ara Nranyan replying to a question of www.mardik.am said that the government is implementing a low income policy to cope with inflation risks and is at the same time the government is convinced that this is the answer to economical competitiveness. Nranyan believes that this kind of economic policy leads to immigration because a citizen with low income cannot produce competitive goods and cannot increase productivity, in other words the government is eliminating remuneration which is the basic incentive to work and to create. He also said that the previous government increased salaries according to inflation thus not only benefiting the citizens but boosting the economy as well. Nranyan underlined that low income policy has a stalling effect on a country's development.