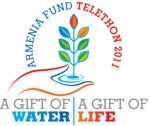 The Bureau of the Armenian Revolutionary Federation issued a communiqué today calling on all Armenians to take part in fundraising activities of the Hayastan All-Armenian Fund. Below is the translated text of the announcement:
The Hayastan All-Armenian Fund has already begun its annual fundraising efforts in Armenia and the Diaspora. It will culminate in the telethon that is scheduled to take place on November 24 in the United States.
This year's proceeds, just like last year, will be allocated toward the development of Armenia's border villages and the Nagorno Karabakh Republic.
Pan-Armenian institutions such as the Armenia Fund, regardless of their immediate and specific mission have a deep symbolic significance. Their existence and stability are the real proof of Armenian unity and is the unifying force for various segments of all Armenians.
At the same time, it is also important to emphasize the irrefutable fact that the strengthening of the Republics of Armenia and Artsakh is a pan-Armenian aspiration of our nation. The border villages of Armenia and the Armenians of Artsakh are the guarantors of the security and development of all of Armenia. Thus, investing in those regions achieves a pan-Armenian objective.
Hence, we call on all Armenians to take part in great numbers and generously in the fundraising effort of the Armenia Fund.