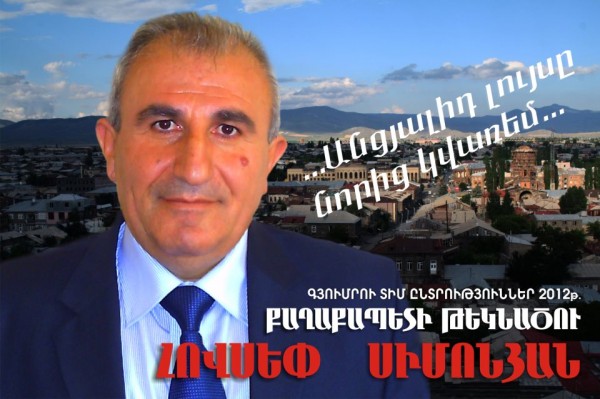 GYUMRI (Satenik Vantsian / RFE-RL) – The Armenian Revolutionary Federation (Dashnaktsutyun) became on Monday the first opposition party to field a candidate for an upcoming mayoral election in Armenia's second largest city of Gyumri.
The candidate, Hovsep Simonyan, was presented at a news conference held by Dashnaktsutyun leaders in Gyumri and the surrounding Shirak province. Simonyan currently works as deputy head of the department on finance and economy at the provincial administration.
The city's longtime and controversial mayor, Vartan Ghukasyan, was widely expected to seek another term in office in the election slated for September 9. However, the ruling Republican Party of Armenia (HHK), of which Ghukasyan is a member, called his political future into question last week then it pledged support for another candidate representing the Prosperous Armenia Party (BHK), a former member of the country's governing coalition. Ghukasyan has since been tight-lipped about his reelection plans.
Dashnaktsutyun representatives in Gyumri said the decision to nominate Simonyan was initiated by the party's local chapter during a conference. "We will fight till the end," Simonyan told RFE/RL's Armenian service (Azatutyun.am). "Nothing can inhibit or hold us back during this period."
The Dashnaktsutyun candidate complained about what he called a connection between the Gyumri vote and Armenia's next presidential election due in February. He said that will make it harder for local voters to "make the right choice."
Some observers have suggested that by backing a BHK candidate in Gyumri the ruling HHK hopes to mend fences with the BHK and secure its endorsement of President Serzh Sargsyan's reelection.
[Armenia's second largest city of Gyumri will hold next month the most competitive ever elections of its municipal council that has until now been a largely rubber stamp body controlled by mayors loyal to the central government.
A record-high 72 candidates are vying for the 21 seats in the local Council of Elders that will be up for grabs on September 9.
The HHK and the BHK, which pulled out of President Serzh Sargsyan's coalition government in June, have nominated the largest number of candidates for the council: 17 and 13 respectively. The pro-government Orinats Yerkir Party and two major opposition groups, the Armenian Revolutionary Federation (ARF-D) and the Armenian National Congress (HAK), have fielded only three candidates each.
The remaining 33 hopefuls are not affiliated with any party. Seven of them represent the City Is Ours movement set up by local civic organizations.]