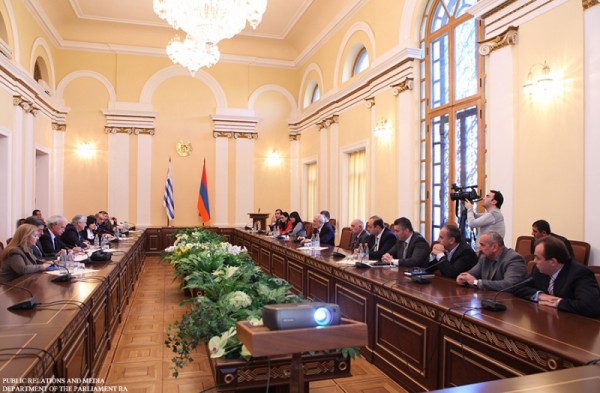 On November 16, the delegation from Uruguay met with the Armenia-Uruguay Friendship Group, the Head of which is ARF-D member Vahan Hovhannesyan, news.am reports. Hovhannesyan said that in line with the results of the meetings with the Prime minister and the Foreign Affairs minister and their discussions over the importance of the bilateral economical relations as well as the significance of founding a Chamber of Commerce, businessmen were also invited to participate.
The President of the House of Representatives, Jorge Orrico gave geographical, historical, political and financial information about Uruguay noting that the political, economical and social stability, the openness to the world and the policy of creation a foreign investments-friendly ground and human rights protection hold a special place among the priorities that are necessary for his country development. Orrico also stated that the effectiveness of Uruguay's policies and the achievements in different sectors are correlated with the continuous effort of perfecting legislation and
with the use of the appropriate mechanisms.
Uruguay is one of the smallest countries in Latin America and has a population of 3.3 million. Uruguay has many accomplishments in different sectors of economy, has trade relations with 120 countries and is considered to be the most democratic state of South America.
According to Orricon, one of the solid proofs of his country's successes in democracy and in human rights protection is the fact that Uruguay has been the first state to recognize and condemn the Genocide of the Armenians. This also proves, he said, that for Uruguay human rights are much more important than economic interests.
Armenian and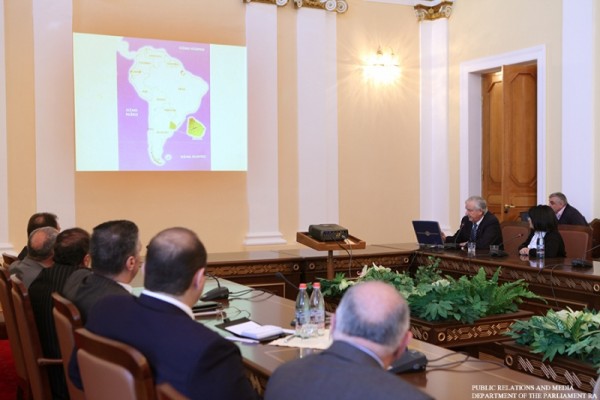 Uruguayan entrepreneurs presented their fields of engagement and potential investing directions. In particular they discussed about cooperating in the sectors of pharmaceuticals, agro-industry, tourism, construction materials industry, high technology and science and founding joint corporations.
Hovhannesyan suggested them to have meetings with a wider participation, assess all investments possibilities and take realistic and practical steps.