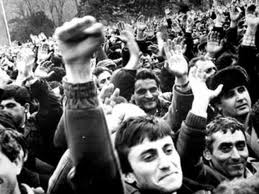 Fellow compatriots,
The Artsakh liberation movement marks its 25th anniversary today February the 20th. Thanks to Artsakh's liberation movement a part of our homeland was freed, the independent statehood of our modern times was established. The Artsakh movement gave back to the people pride, determination to define its own fate, to fight and to win. Victory was made possible thanks to unification, the gathering of the all-Armenian potential and to true devotion.
Today, the Republic of Armenia, Artsakh and Armenians worldwide stand in front of new challenges. We must understand that empowering the Republic of Armenia, realizing Armenians' aspirations and affirming legally the Artsakh liberation movement's achievements will be realized with the preservation of both our spirit and of the effort that we put jointly.
Compatriots,
We congratulate everyone, on the occasion of Artsakh movement's 25th anniversary. We are convinced that the principles of the Artsakh movement will serve as guidelines for our coming victories.
Armenian Revolutionary Federation