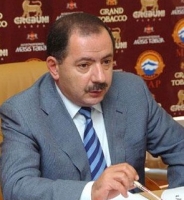 YEREVAN—A violent incident on the border of the Mountainous Karabakh and Armenia has caused anger, with condemnations from various social and political circles of Armenia, including the Armenian Revolutionary Federation – Dashnaktsutyun, dominating the news on Monday, February 2nd.
On Saturday a 30-car convoy of activists from the Founding Parliament (previously Pre-Parliament) movement headed for Artsakh under the "100 years without the regime" banner. At Berdzor (Karabakh) the convoy was prevented from entering further and later on was met with police brutality.
This incident has caused anger in various groups in Armenia, which condemned the attacks and the brutal use of force.
"What happened in Berdzor must be condemned and is unacceptable," said Aghvan Vardanyan the secretary of the ARF-D Parliamentary Faction and chairman of the ARF-D Supreme Council of Armenia.
"I believe, the use of disproportionate force did not yield any positive outcome. For us this is unacceptable," stressed Vardanyan.
He also said that the incident was dangerous in that outside forces may use what happened in Berdzor to drive a wedge between Armenia and Mountainous Karabakh and create internal tensions in Armenia. Moreover, ARF-D criticized the organizers of the convoy for trying to campaign in Karabakh and using the 100th anniversary of the Armenian Genocide for domestic political purposes.