(various sources) The official and state language of Armenia is Armenian, the "Law on Language" is one of the fundamental values of the state's independence and it is not subject to any change, Minister of Education and Science Levon Mkrtchyan told reporters in response to a question regarding the possibility of adopting Russian as second official language.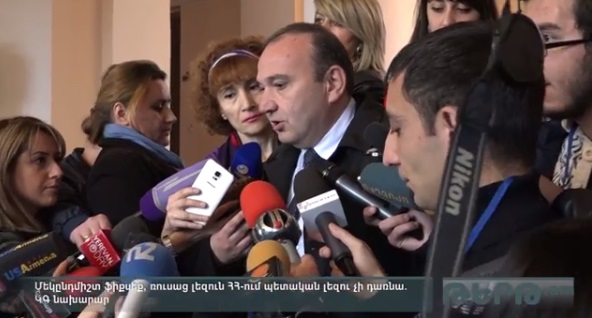 Mkrtchyan explained that in addition to excellent knowledge of the mother tongue knowledge of foreign languages is essential if Armenia aspires to advancing in the fields of sciences and education. The Minister went on saying that in European countries the number of foreign languages that are taught is three while Armenia focuses on at least two.
"There is no issue of giving any status to a foreign language, there is an issue of deepening the knowledge. The Russian language has the same status in Armenia as any other foreign language". Mkrtchyan mentioned that good and even more advanced knowledge of Russian is important since that is the language of communication within the Eurasian Economic Union, and also because Armenia and the Russian Federation share a military and technical cooperation.
"Understand it, once and for all. The Republic of Armenia is an independent state. Let us not be scared of ourselves. Les us trust our potential" said Mkrtchyan ruling out any possibility of changing the legislation and granting the Russian language any special status.
Recently, Permanent Delegate of the Russian Federation to UNESCO, Ambassador Eleonora Mitrofanova announced that Russia must make efforts to give a special status to the Russian language in post-Soviet states.