YEREVAN (A.W.)—The Armenian Revolutionary Federation (ARF) Supreme Council of Armenia issued the following statement on April 19, as protests, demonstrations, and various acts of civil disobedience against former President Serge Sarkisian's election as Armenia's Prime Minister continue to rage for a seventh straight day in Yerevan.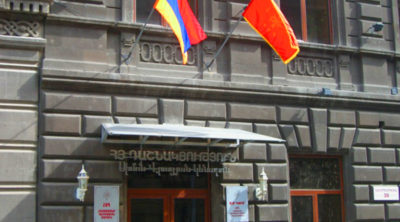 Below is the translated version of the statement—originally written in Armenian—in its entirety.
***
The protests, rallies, and demonstrations, which have been taking place in our country over the past few days are evidence of the public's demand for systemic changes and for qualitative and real reforms.
Civic activism is the most important guarantee of the country's development and its democracy. However, confrontation can lead to a deadlock and can split our nation-wide potential. We all face the call to find solutions to the current situation—one in which both the citizen of Armenia and the country itself will ultimately benefit.
In this regard, first and foremost, the authorities, political forces, and politicians have much to do. We all have the obligation to form a collective political agenda; to take state-building to a new and heightened level; to realize a united political system of authority-opposition; to build citizen's confidence in the state and in the future; and to ensure that participatory democracy is implemented in the country.
Based on this conviction, the Armenian Revolutionary Federation (ARF) Supreme Council of Armenia calls on all the political forces represented in the parliament—under the patronage of the Republic's President, the guarantor of the state and the constitution—to create a platform for political dialogue, in order to find common solutions to the existing problems and to resolve the current situation in the country,