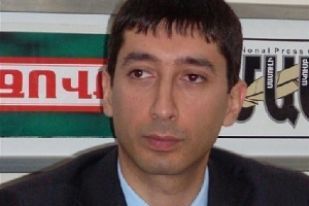 "The Armenian Government's policy and actions are not in line with the present situation," the member of the Armenian Revolutionary Federation (Dashnaktsutyun) parliamentary faction Ara Nranyan told reporters. Before the crisis the Armenian Government tried to implement some economic programs, whereas, after receiving huge credits from abroad, stopped all the work in this field and is now "dragging out" until the world situation improves, which will have a beneficial effect on the Armenian economy.
"No radical changes will take place in Armenia next year, and you will see the same policy continue," Nranyan said. He pointed out that the "GDP decrease was 14.4%, which means that it was more than 27% in terms of U.S. dollars. We are back to the indicators registered four or five years ago. Currently no constructive qualitative changes are made for the diversification of the economy. As a result, at the end of 2010 we will have the same situation in the economy as we used to have during recent years, including this year, as, for example, in import-export relations, for supporting local producers. The government does not implement any new, so-called, anti-crisis program, with the help of those loans, but it continues the programs initiated before the crisis,"
Nranyan said "the Government is supporting importers regardless of whether credits have been borrowed or not." He expressed the opinion that the Government should support sectors rather than individual organizations. "The Government should support sectors, since supporting individual organizations means violating competition principles and thus contributing to monopolization," Nranyan said.
On the other hand, making investments and running business is not so advisable in Armenia. "If people feel they can freely set up businesses, try to leave the state-run sector and establish their own businesses, it will mean competition does exist. But no civil servant will dare take such a step now," Nranyan said.
Ara Nranyan criticized the proposed government reforms slated for 2010 as being disastrous for the nation. "I would like to call your attention to the reforms envisaged by the government for 2010. I'm specifically referring to the pensions. This will be the final step the government takes that will throw the nation back by decades and that will bankrupt it," said MP Nranyan.
"The pension reforms that the majority is planning to push through will be the biggest blow this nation faces. People always decry that 'they pillages and destroyed', but this project will have more negative impact than all the bad economic programs combined that have been implemented previously. We will be facing some serious issues afterwards," he warned.