Andorra la Vella, Andorra
June 17-18, 2010
Politicies on Gender Issues – The Driving Force for Social and Economic Development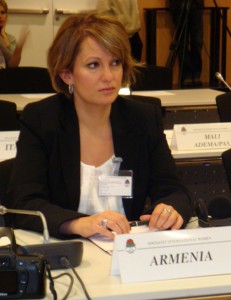 Over 40 representatives of member parties from 20 countries took part in the SIW Council Meeting, which took place in Andorra. Representing Armenia was Maria Titizian of the ARF-Dashnaktsutyun and Vice President of the Socialist International.

Welcoming remarks were made by Pia Locatelli, the President of SIW and by members of the host party, the Social Democratic Party of Andorra (PS), including Mr. Jaume Rifa, the coordinator of the Secretariat for Gender Policies, Ferran Goya, the First Secretary of the Social Democratic Party of Andorra and Rosa Ferrer, the Mayor of Andorra la Vella.
Speeches were made by Magda Mata, the Deputy Minister for Equality and Welfare on the subject, Policies on Gender Equality in Andorra; Janet Camilo of the Dominican Revolutionary Party (PRD) of the Dominican Republic on the topic, Policies on Gender Equality in Latin America and the Caribbean; Luzia Ingles, MP, SIW Vice President and member of the Popular Movement for the Liberation of Angola (MPLA) who spoke about Policies on Gender Equality in Africa; Soledad Cabezon Ruiz, National Secretary, Secretariat for Equality of the Spanish Socialist Workers'Party (PSOE) of Spain spoke about Gender Budgeting and Policies on Gender Equality and finally Rosa Ferrer, Mayor of Andorra la Vella spoke about Gender Budgeting in Local Administrations.
As the SIW is divided into regions, each vice president met with the delegations from their region. From Armenia's region – Mediterranean East, the Middle East and the Caucasus – only Greece (PASOK) and Iran (PDKI) were present. The possibility of holding a regional meeting was discussed as well as possible avenues of future cooperation between the women of this difficult and conflict-ridden region. In light of recent events, the need to make proposals for the Palestinian women of Gaza was high on the agenda.
Among the items on the agenda was the need to lobby for a 5th UN Global Conference on Women. Each delegation was asked to lobby their own national governments and civil society to push for this to take place. Another area of concern included the reorganization of those structures/institutions within the United Nations which are dedicated to gender issues. There is a plan to dismantle UNIFEM before the creation of a new gender structure has been established. The SIW is on the forefront of making sure this does not happen and a letter has been sent to the General Secretary of the UN, Ban Ki Moon in this regard.
It was also discussed that women socialists need to be more proactive in dealing with those issues affecting women globally and to push for full gender parity in all levels of decision-making.