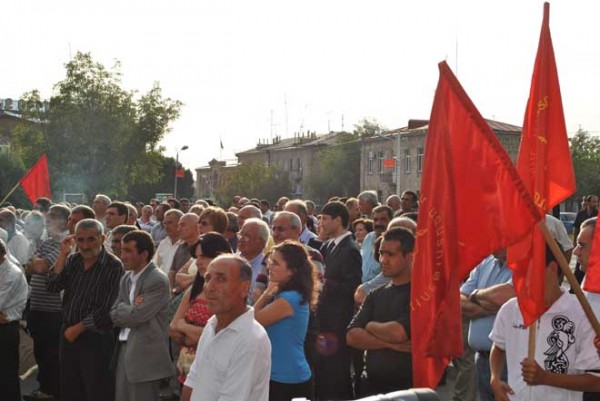 ASHTARATK, Armenia — "The process of regime change must start in the provinces," said Armenian Revolutionary Federation-Dashnaktsutyun Supreme Council of Armenia chairman Armen Rustamyan, yesterday, at a rally, which local government authorities had not authorized.
The ARF-D leader kicked off the party's campaign of rallies in various provinces; "We must start the process of preparing regime change, forming a new government from our regions so that every Armenian citizen understands the essence of Dashnaktsutyun's programs," said Rustamyan, the chairman of the Armenian parliament's foreign relations committee. Similar protests will be staged across the country in the coming weeks, he added.
The speakers at the rally reminded the crowd about the ARF's commitment and continued pursuit of socio-economic, social justice and national issues explaining that the party has always been vocal about these matters, even when it was part of the ruling coalition.
ARF-D Bureau member and head of the party's parliamentary bloc Vahan Hovennesyan explained that the many proposals put forth by the ARF parliamentary bloc during the discussion of the budget were rejected by the government, simply because the party is in the opposition.
He explained that several projects in Ashtarak, among them the renovation of a local kindergarten, refurbishing of roads leading to other villages and communities, as well as other infrastructure building proposals were all rejected.
Hovannesyan stressed that this problem was not Ashtarak-specific and all provinces in the country were afflicted by this neglect from central authorities.

Rustamyan and other speakers at the Ashtarak rally directed their ire at Sargis Sahakyan, the Aragatsotn governor affiliated with president Serzh Sargsyan's Republican Party of Armenia (HHK). They accused Sahakyan of mismanaging the region, previously governed by a Dashnaktsutyun member, and firing dozens of Dashnaktsutyun members since taking office last year.
"He breaks the law, and so we must do everything to make the government of the Republic of Armenia fire him," Vahan Hovannesyan told the crowd.
Karen Shahazizyan, who leads a Dashnaktsutyun chapter in the region, said that some 30 civil servants, teachers and other public sector employees affiliated with the party have been forced to quit or fired over the past year. He said all of them were replaced by HHK members or the governor's cronies.
Shahazizyan himself was dismissed last year as head of the social security department at the regional administration, a position which he had held for 12 years. He is currently challenging his dismissal in a local court.
At the conclusion of the rally, a nine-point statement was read and approved by participants. Among the points highlighted in the statement were the creation of socio-political structures that would monitor the activities of provincial leaders and the creation of infrastructure-strengthening programs based on the needs and capabilities of each province.
The rally went ahead despite local authorities' refusal to sanction it. Armenia's Administrative Court on Tuesday upheld the ban denounced by Dashnaktsutyun as illegal.