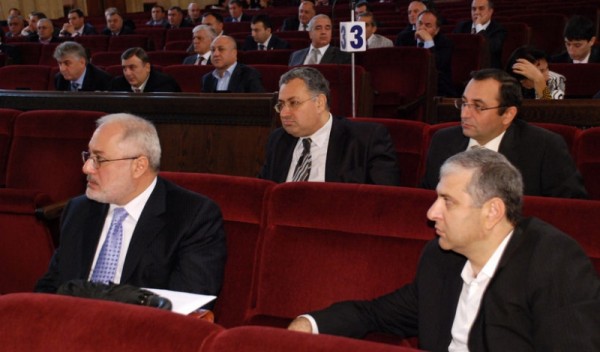 The parliamentary faction of the Armenian Revolutionary Federation-Dashnaktsutyun (ARF-D) will support a proposed bill to recognize the Mountainous Karabakh Republic (MKR). Vahan Hovhannesyan, leader of the ARF-D parliamentary faction, made this announcement on October 5, during discussion of the bill in parliament. "If the bill on recognition of the Mountainous Karabakh Republic is put to a vote in the Armenian Parliament, the ARF faction will vote in favor of it," he said. Hovhannesyan went on to explain that the ARF-D was initially opposed to the proposed bill and discussion of the matter by the legislature as it believed the issue of MKR's recognition should have unanimous consent among all parties represented in parliament.
The proposed bill that calls on Armenia to recognize MKR was introduced in parliament by the Heritage Party of Armenia's parliamentary faction and was scheduled for discussion on Tuesday, October 5. However, a vote was postponed until the next parliamentary session, scheduled to take place on October 25.
Heritage Party leader Raffi Hovannisian requested the delay, given the lack of support from the Armenian government and the pro-government parliamentary majority which says the passage of such a bill would impede the Karabakh peace process currently mediated by the OSCE Minsk Group.
Hovannesian stressed that the participation of all parliament members in the discussion and voting of such a resolution was imperative for the proper political message to be relayed. He called the government's and the ruling faction's position on the matter "uncompromising."
Last month, Armen Rustamyan the chair of the parliamentary Commission on Foreign Relations and chair of the ARF-D Supreme Council of Armenia, proposed the signing of a strategic alliance agreement between Armenia and the Mountainous Karabakh Republic. Rustamyan had argued that such an agreement would align the political activities of Armenia and Karabakh, while, at the same time, would not have disrupted the negotiation process as feared by official Yerevan.
Armenia's Deputy Foreign Minister Shavarsh Kocharyan told parliament on Tuesday that official Yerevan was always guided by the will of the people of Karabakh vis-à-vis the recognition of MKR's independence by the international community. Kocharyan assured parliament that Karabakh would become a full party to the negotiations at some stage in the future.