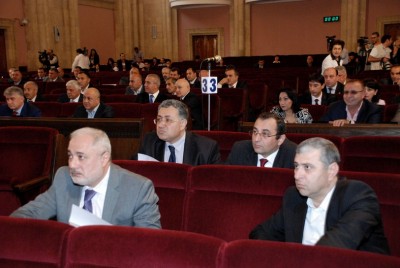 On October 5, discussions in the Armenian parliament continued regarding the Armenian government's proposed package of amendments to the Law on Excise Tax, which it had introduced previously on September 5.
Currently, importers of vodka, diesel fuel and cigarettes pay only a fixed tax on the physical volume of their imports. By contrast, local tobacco and alcohol producers are subject to a regular taxation that covers all businesses operating in Armenia, which appears to give them a competitive edge over importers of the same products. According to the proposed legislative initiative imports of vodka, diesel fuel and cigarettes would no longer be taxed under a fixed taxation scheme, but rather would be placed in the general taxation field.
According to the government, Armenia has to ensure equal taxation for all imported and domestically manufactured products in accordance with its obligations to the World Trade Organization (WTO) and other international bodies.
Deputy Finance Minister Suren Karayan was the main rapporteur for this proposed bill. ARF-D parliamentary faction member Artsvik Minasyan asked numerous questions including requesting clarification from the deputy minister as to what impact increasing taxes would have on inflation. He went on to say, "In effect, our manufacturers, which create jobs and pay wages, are equated with importers and the country is becoming more import-oriented." Ara Nranyan, another ARF-D parliamentary faction member, wanted to know how these proposed increases would stimulate local production.
While trying to answer the plethora of questions, the deputy minister responded by stating that for example, one liter of vodka would increase to 120 AMD. In his words, this initiative will, on the one hand, create an equal field for competition in the local markets and will remove barriers to locally produced products being exported to other countries.
Opposition parliamentarians asserted that Yerevan has faced pressure from Russia and Ukraine, leading importers of vodka and alcohol to Armenia. Ukraine recently lodged a complaint against Armenia with the WTO.
Karen Vardanyan, an ARF-D parliamentary faction member, noted that the state budget would not increase as a result of this legislative initiative; on the contrary, many people would lose their jobs.
The parliamentarian wanted to have clarification regarding the cigarette manufacturing sector, in particular how much inflation should be expected, how many farmers would lose their jobs, how it would adversely affect national markets, etc. Answering Mr. Vardanyan's questions, the deputy minister said that the cost price of cigarettes would increase only by 10 AMD. In Karen Vardanyan's words, a simple calculation makes it clear that the cost price would increase by 25-30 AMD. "Even under equal conditions, competing with transnational companies for Armenia is akin to Armenia's national football team winning a game against Brazil. For this very reason, these amendments can create very serious issues for local producers when they must compete with importers. This is very dangerous for national markets," Vardanyan stated.
The deputy minister, in response to Vardanyan, said that he could not say why an additional 10 AMD on taxes would increase the cost price of cigarettes by 20-30 AMD. Upon hearing this statement, Vahan Hovhannesyan leader of the ARF-D parliamentary faction noted that although he is not an economist himself, he was amazed that the deputy minister couldn't understand the mathematics. "For example, why was it that during the financial crisis when international prices on products increased by 1-2 percent, in Armenia we witnessed 15-20 percent inflation. If you don't understand this then I am amazed that you are standing here before us as the rapporteur," Hovhannesyan
The following day, October 6, the Armenian government was able to push the bill through parliament during the first reading and on Thursday, October 7 during the second reading it was passed. Opposition parties in parliament, the ARF-D and the Heritage Party voted against the bill.