YEREVAN — The Armenian Revolutionary Federation-Dashnaktsutyun called on members of parliament Monday to vote against a government proposed law that will radically privatize Armenia's pension system.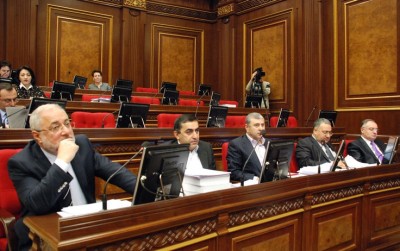 On June 24, 2010, the Republic of Armenia's National Assembly decided to privatize its social security system by adopting an extreme version of a private pension model. The mandatory private pension system will allocate 100% of an employee's pension contributions to private individual accounts, which will then be invested in stock, bond and money markets.
"Armenia is in need of reform, but not like this," said ARF Parliamentary Faction leader Vahan Hovhannesyan. "This new system threatens to undermine the country's moral fabric."
"The reforms proposed by the government will not provide adequate pension benefits for our pensioners in the future," said ARF-D parliamentary faction member Artsvik Minasyan during Monday's session of parliament. "I suggest the government stops discussing the draft law on pensions and instead calls a public referendum to resolve the issue this issue."
Minasyan said that the proposed amendments will cover only 700,000 of the 1.5 million people who are active in the Armenian economy. The remaining portion, particularly the unemployed, will be left out of the system, he added.
He went on to criticize the government for quickly passing the new pension law without adequate public discussion about the matter.
"Serious public discussion, particularly in Europe, is conducted during pension reform where citizens have an opportunity to express their opinions and disagreements," Minasyan said. "In Armenia, however, everything takes place rather calmly without public discourse and the citizens cannot even imagine what they are to expect."
The ARF-Dashnaktsutyun warns that the privatization of Armenia's pension system will place undue risk on low income employees and exposes them to the risk of being without an adequate amount of income upon retirement.