Statement by the National Assembly's ARF-Dashnaktsutyun faction:
"The NA ARF faction expresses its indignation about the clash that took place in front of the government building on the morning of March 3.
"The police used force and impeded citizens' peaceful demonstration aimed at protecting their rights.
"Citizens were injured and MPs with immunity were assaulted.
"We condemn the incident and demand that the corresponding bodies lead an impartial investigation, give a legal evaluation of the incident and bring those responsible to justice."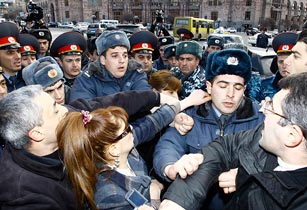 BACKGROUND:
Ruben Meloyan (RFE/Radio Liberty)
About two dozen people, among them opposition members of Armenia's parliament, clashed with riot police on Thursday as they protested against a controversial ban on street trade in Yerevan.
The incident took place outside the Armenian main government building during a weekly session of Prime Minister Tigran Sarkisian's cabinet. Protests staged there by small groups of citizens have long been a regular occurrence.
Robert Melkonian, a controversial deputy chief of the Yerevan police specializing in crowd control, ordered his men to push the protesters away from the building, saying that gatherings held there violate Armenian law. The police met with resistance as they shoved and jostled the tiny crowd.
"Don't you dare to touch any of these people," screamed Zaruhi Postanjian, one of the parliament deputies from the opposition Zharangutyun (Heritage) party attending the protest.
"Grab their hands and drop them into the cars," Melkonian told the policemen. "Take part in parliament sessions, Madam Deputy," he said, turning to Postanjian.
Armen Martirosian, another Zharangutyun deputy manhandled during the incident, got in a bitter shouting match with a police lieutenant-colonel as he tried unsuccessfully to prevent the arrest of an opposition activist also participating in the action.
"Don't you see who I am? Take off your glasses and have a closer look," yelled the officer.
The detained man, Vardges Gaspari, was released from police custody several hours later.
Anahit Bakhshian, another Zharangutyun lawmaker, felt unwell during the scuffle and was hospitalized from the scene.
Martirosian and Stepan Safarian, Zharangutyun's parliamentary leader, met with Sarkisian shortly after the incident. According to Safarian, the prime minister ordered the chief of the Armenian police, Alik Sargsian, to investigate the police actions.
The police defended those actions, however. A police statement issued later in the day said the opposition lawmakers and other protesters disrupted "public order" and ignored "legitimate police demands." The statement also claimed that demonstrations held outside the prime minister's office "impede the normal work of Armenia's government."