"The document is a turning point in our history. Our eastern borders were recognized under the Moscow agreement," Erdogan later told a press conference in Kremlin.

The timing of the meeting was seen by some Armenians as a slap in the face, as it was that treaty that became the foundation for the Kars Treaty of October, 1921, which established the reduced borders that defined Soviet Armenia. On March 16, 1921, representatives of the Russian Socialist Federative Soviet Republic and the Government of the Grand National Assembly of Turkey signed the treaty in Moscow, without the participation or consent of Armenian representatives, granting Kars and Surmalu to Turkey and placing Nakhijevan under Azerbaijani protectorate.
In Yerevan, news of the meeting was met with a protest in front of the Russian embassy, led by the Armenian Revolutionary Federation "Nigol Aghbalian" Student Union and the ARF-D Youth Organization of Armenia.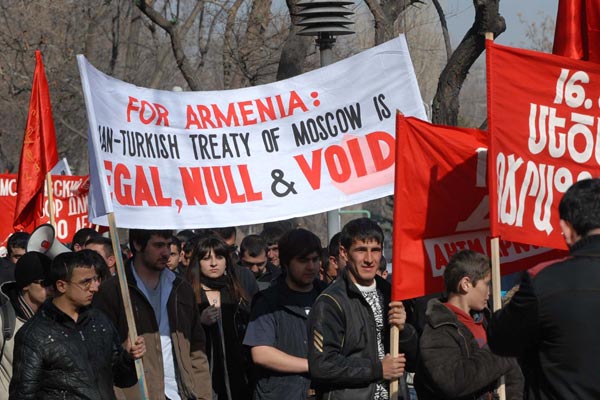 The demonstrators walked from the Stepan Shahoumyan square to the Russian Embassy chanting slogans and holding placards, which conveyed the day's message of calling on the Russian authorities to reject the 1921 treaty.
Organizers asserted that by accepting Erdogan's visit to Moscow on this date, Russia, a strategic partner of Armenia, was discarding its relations with Armenia
The protesters demanded that Russia officially condemn the 1921 treaty and consider it not valid.
"This is a disgraceful treaty, which was realized by ignoring international norms, because there is no precedent whereby to governments sign a treaty regarding a third party, especially when the governments of the signatories were not recognized by the international community," said ARF Supreme Council of Armenia chairman, Armen Rustamyan.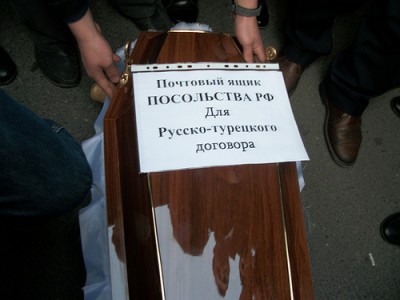 "This is a case of violation of the rights of the Armenian people. If we do not condemn this, then we are doomed to repeat the same mistakes and suffer similar losses," added Rustamyan.

The ARF leader pointed out that Armenia's Foreign Ministry could have declared that it did not recognize the Moscow Treaty and as such reject the subsequent Kars treaty, which Bolshevik Armenian leaders were forced to sign. He asserted, however, that official Yerevan has not taken such a step since its independence in 1991.

The organizers had a protest letter to the Russian Embassy. The letter was carried in a coffin from the protest site to the entrance of the embassy, since Russian officials did not personally appear to accept the protest letter.

"It is time that we show everyone that this treaty cannot have any legal basis for Armenia, and we are stand behind the past, present and future rights of our people, with the established of a free, united and independent Armenian state as our driving mission," said ARF parliamentary faction member Artsvik Minasyan.

At a meeting in Moscow Wednesday Turkish Prime Minister Recep Tayyip Erdogan gave a replica copy of the infamous Moscow Treaty, signed 90 years ago to the day, to Russian President Dmitry Medvedev.