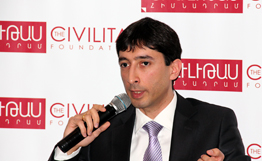 YEREVAN – Ara Nranyan, a parliament member from the Armenian Revolutionary Federation-Dashnaktsutyun party, questioned today the wisdom of a government-designed bill that would vest the government with authority to interfere and set price ceilings for a number of foods if they grow by 30 and more percent within one month, saying the authorities should instead work to ensure fair economic competition.
The government bill to set price rise ceiling can also lead to commodity deficit in Armenia, given that it goes through the parliament and signed into law, said Ara Nranyan.
"It would be better if the government eliminates monopolies and gives thousands of people a chance to start or develop their small businesses. Regardless of who imports foods and grain crops or cooking oil. Even if prices grow people would have higher wages, they would have jobs, in other words there would be a real economic activity," he said today during a public discussion on local and global inflation trends and Armenian monopolies.
He said Armenia should pattern its economic model from those of developed nations and be driven in the first place by economic expediency.
"Those who think that Armenia – whose GDP is 40% made of imports – is able to create an artificial island of low prices are wrong. It is absurd," he said.
On March 10, the Armenian government approved amendments to the trade and services law and the administrative offences code. The amendments empower the government to interfere in price-making process in the event of 30-percent rise in 20 names of staples over one month. In accordance with these changes the government would be able to exercise this right within 90 days to put things right.
"I am convinced that this (commodity deficit) will happen, since I don't believe that economic entities can sell goods at prices below cost contrary to the reason prompted by outside factors," he said.
Explaining this, Nranyan said that price rise ceiling can be set for particular large manufacturers or importers, but it should not apply to already produced or imported goods. In his opinion, this policy can give grounds to consumers to sweep goods from shops.
He was also puzzled by the government's decision to set price rise ceiling at 30%. "Does it mean that 20% rice is not enough to interfere? What we will have by the end of the year if price rices 10-15%?"
Nranyan was doubtful whether the government will use this mechanism.
This decision applies to prices for beef, poultry, fresh fishes, condensed milk without sugar, butter, cheese, eggs, potatoes, onion, carrots, tea, wheat, rice, buckwheat, flour, vegetable oil, sugar, bread and salt.
Armenian inflation rose further by 1.9% in February from January dragging the 12 month figure up to 12.4%. According to government data, food prices rose by 10.1% in that time span. The government inflation projection for 2011 is 4±1.5%.