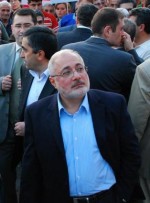 On October 29 ARF-D Bureau, Parliamentary Faction and Supreme Council members held a meeting with the public in Armavir. Hovhannesyan presented the activities of the Parliamentary Faction. Despite difficulties as well as the small number of the Faction, ARF-D tries not to allow the vote of decisions and laws that have nothing to do with the improvement of the country. "These kinds of draft laws are often brought to Parliament because the government has forgotten its obligation to serve the people and has decided that it's the people that have to serve them". Hovhannesyan said that ARF-D has tried several ways in order to meet its goals whether that's in or out the coalition but it hasn't succeeded in doing so because the people are indifferent and called everyone to get more involved and become more demanding.
Rustamyan, pointed out that it isn't just the government's wrong-doing as it is the system that gave birth to these sort of authorities. "It's a lie to think that this system can produce a new power that will change things" he added.
Minasyan, presented the plan about social changes and said that none of them is possible unless the consumer's minimum market basket rises to 65.000 tram, as ARF-D is demanding for years and the government keeps rejecting it. As a result, the number of poor people in the country has reached a code-red level. "This is a national tragedy. A country with this kind of social base cannot have a future" said Minasyan.
The panelists took questions from the audience, replied and engaged in an active conversation. The bottom-line is that no more tolerance is possible when it comes to government's policies. The only way is an overall and systemic change of power.