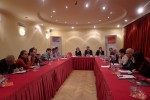 The Hrayr Maroukhian Foundation organized a two-day seminar dedicated to Social Democracy (SD) in Yerevan on October 29-30, 2011. Dr. Christian Krell, one of the co-authors of "Foundations of Social Democracy" and Michael Reschke from the Freidrich-Eibert Stiftung led the seminar with the participation of members of parliament, economists, political scientists and sociologists.
The topics discussed included the theory of Social Democracy, European SD in the last two decades, re-inventing SD in Europe and the expectations and challenges of Social Democracy in Armenia.
On an interview with Yerkir Media TV HMF's Director and Socialist International's Vice President Maria Titizian stated "When we mention socialism in former soviet countries, people form a false impression and they think they should link it to communism. That's not like that, at all. If we look at Europe's experiment we'll see that the countries with social democratic organizations become more socialist states. Today, in Armenia there is a sharp polarization between the poor and the wealthy and under these circumstances where socialist unfairness exists it's highly important to discuss about what can social democracy do in Armenia" said Titizian.