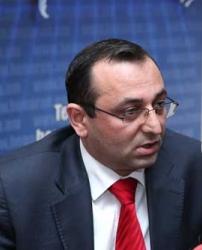 ARF-D Member of Parliament Artsvik Minasyan commenting on the economical seminar of Armenia's Republican Party said to www.emedia.am that the country's exporting strategy won't contribute in the development of Armenia's economy even in its best case scenario which was presented in the seminar. In his most optimistic forecast, Minasyan said that 5.000-5.500 jobs will be created when at least 300.000 jobs are necessary for people to tie their future to the country. But to cheer saying that the cognac industry, the pharmaceutical industry and precision engineering are the country's saviors will only cause a new wave of disappointment, he added.
Minasyan, stressed that in the core of Armenia's economic development plan two strategies should also be included; one to cope with the wider region's access problems and another that will aim to economic prosperity under the imposed blockade.
Furthermore, the ARF-D MP emphasized on the people that will be called to implement the economic policy. The leading team of the country has proved incapable of giving solutions to panarmenian and large-scale issues, said Minasyan. It has to be a team with national approach, where each decision-making person must think about how to better promote his country so to succeed in the markets. "We have a governing team that showed how to tumble beautiful projects" he stated. Commenting on Prime Minister Sargsyan's statement about the economy that the government inherited Minasyan argued that national leaders impose their will on the environment and not the other way around. According to the ARF-D MP it's all preelectoral rhetoric from the government's side in order to win the voters' sympathy.