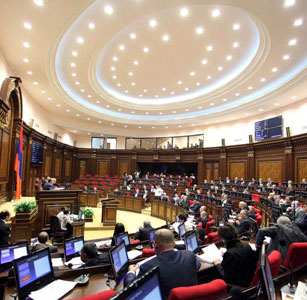 Today, the Parliamentary Factions of the Heritage (Zharangutyun) and Armenian Revolutionary Federation-Dashnaktsutyun parties took a joint initiative and circulated a proposition-package on amending the 'Electoral Code', the 'National Assembly Regulations', 'The Law on the Constitutional Court' aiming to pass from the current mixed election system to a 100% proportional system.
The proposition is supported and welcomed by the Armenian National Congress (HAK), "The Liberal Democrats" (ADK), the "U-Turn" party (Shrjadarts), "The People's Party" (Zhoghovrtdagan), Armenia's Democratic Liberal Party (HRAK), The National Democratic Party (AZK), Armenia's Workers' Socialist Party (HASK), The United Labor Party (MAK), Armenia's Democratic Parties, numerous political and civilian groups and intellectuals.
On 4 August 2010, on the threshold of the "Electoral Code" elaborations, ARF-D and Heritage in regard to the primary points that were submitted to change, came jointly forward with 10 propositions – including the passing to a proportional election system – which were also sent to the European Commission of Democracy through Law (Venice Commission) in order to get an expert opinion.
Along with other propositions the one about passing to a proportional election system was presented on 26 May 2011 as well during the discussions of the newly approved Electoral Code.
Representatives of the opposition, and particularly ex-member of the HAK, now member of the Free Democrats party, Alexander Arzumanyan, believe that since the government resource is unsparingly used in "majoritarian" votes, leaving practically no chance for the opposition to win, these 41 seats out of total 131 parliamentary mandates gives a great advantage to the powers that be and nearly precludes the opposition from winning a majority in the legislative body.