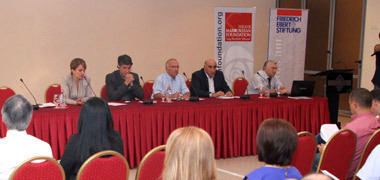 The Hrayr Maroukhian Foundation, in cooperation with the Friedrich-Ebert-Stiftung published the "Social Reforms in Armenia II" policy paper, in both Armenian and English.
On this occasion, HMF hosted a scientific conference to present and discuss the situation and suggestions on Agriculture, Mining and Education in Armenia, that are the topics of the publication.
The Friedrich-Ebert-Stiftung was represented by Head of Central and Eastern Europe Department, Dr. Ernst Hillebrand and South Caucasus project coordinator Michael Weichert. Representatives from political parties, Ministries, international organizations and embassies also attended the conference.
Opening remarks were delivered by HMF Director, Maria Titizian who spoke about how these topics are connected to HMF's mission on forming policies and introducing solutions to all beneficiaries as well as seeing to their implementation. Titizian added that with this initiative, HMF aims at closing the blanks in public and political debate which deepen the alienation and polarization of the society.
Dr. Hillebrand stressed that Friedrich-Ebert-Stiftung's purpose is, in collaboration with HMF, to aid Armenia with its reforms' process. He noted that this process that has started 20 years ago is a complex one and demands the help of all the social forces as well as the joint cooperation of the scientific and research centers, independent experts and political parties.
Social Reforms in Armenia II (in English)
http://www.maroukhianfoundation.org/english/wp-content/uploads/2012/10/SS-2-web-eng.pdf
Social Reforms in Armenia II (in Armenian)
http://www.maroukhianfoundation.org/english/wp-content/uploads/2012/10/SS-2-web-arm.pdf