(MASSACHUSETTS, October 1)- On Thursday afternoon, Sept. 27, the General Prosecutor of the Republic of Armenia, Aghvan Hovsepian, presented to parliament a petition to strip Vartan Oskanian of his parliamentary immunity.
Following the announcement, on Sept. 27, Oskanian's lawyer, Dikran Atanesian, stated that according to the regulations of the National Assembly (NA) of Armenia, the president of the NA must inform the parliamentary member about said petition, which didn't take place. "This is an obvious violation of law, and it confirms indirectly that this is political persecution," Atanesian said.
The petition is related to the criminal case of money laundering filed by the National Security Service on May 25 against Oskanian and the Civilitas Foundation of Armenia. The former foreign minister is accused of "money laundering" because he accepted contributions from American philanthropist Jon Huntsman, Sr. to support civil-society projects. In the absence of other evidence, the prosecutor shifted his attention from money laundering to expropriation, and now claims that they are protecting Civilitas, the foundation Oskanian established, from Oskanian himself.
On Sept. 28, the Prosperous Armenia Party (PAP) called the petition "a political persecution not only against Vartan Oskanian, but also against the Prosperous Armenia Party." The party has lent its unconditional support to Oskanian, a fellow party member, and has pledged to achieve justice by all legitimate means available.
After serving almost 10 years as the Armenian Foreign Minister, Oskanian in 2008 left office and established the Civilitas Foundation, which dealt with democracy and development through education, media, rural development, and environmental awareness, as well as several projects on foreign relations advocating for peace and stability in the Caucasus through dialogue and open intercourse. The foundation's latest project is the research- and news-based internet channel CivilNet.am, which has been, throughout its one year of existence, vocally critical of several political, economic, human rights, and environmental issues. Last week, it won the Golden Key award of the Freedom of Information Center in Armenia. Earlier this year, Oskanian had joined the PAP, which is considered the most prominent opposition to the ruling Republican Party; he was elected to the National Assembly on the party list last May. Oskanian has made it clear that he would not support a coalition with President Serge Sarkisian and his ruling party.
Al Jazeera reported that the alleged charges are politically motivated and aimed at stopping Oskanian from running in February's presidential elections. According to Salpi Ghazarian, the director of Civilitas Foundation and a longtime confidante of Oskanian, the case is no longer about Oskanian or Civilitas only.
"This tells you how the government is using its resources in the pre-electoral period," said Ghazarian. "Civilitas will go through all regular legal procedures until it reaches the European Human Rights Court to prove that this case was a political order since the beginning."
In a show of international support, last Friday Oskanian hosted ambassadors from various EU states, the U.S., and Brazil, as well as the EU ambassador in Armenia, and representatives of the OSCE and Council of Europe. Oskanian explained the accusations he faces, and presented the necessary documents to rebuff those claims and charges.
Domestically, most parties represented in the parliament declared their support for Oskanian, including members of the radical opposition Armenian National Council (ANC).
In a similar case in 2008, following the tragic post-election events of March 1, four members sympathetic to ANC president Levon Ter Petrossian were deprived of their parliamentary immunity and were politically persecuted.
Zarouhi Postanjian, a National Assembly member from the opposition Heritage Party, in an interview with CivilNet.am, stated that the process aims to target all those who think differently.
"Maybe this time they are feeling that danger from Oskanian," she said. "There are many 'bright' figures in the National Assembly, who really need to be deprived of their immunity," Postanjian added, referring to the notorious tycoons in the country who were elected to the parliament on the majoritarian lists of the ruling party.
Oskanian, Formally Charged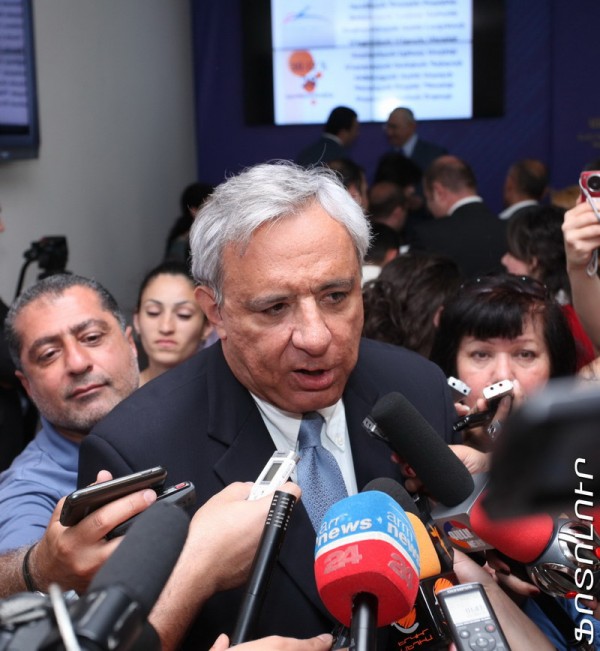 (CALIFORNIA, October 8)–On Monday was formally charged by Armenia's National Security Service with money laundering following months of investigation, which he says is politically motivated.
On Saturday Oskanian received a summons to appear at the NSS on Monday. After spending an hour at the NSS, he was charged with one count of money laundering and one count of misappropriation of funds, stemming from a 2010 $1.4 million donation to his Civilitas Foundation by American businessman Jon Huntsman Sr.
According to Oskanian's attorney Tigran Atanesian, the former foreign minister was charged with one count each of "embezzlement or waste of funds" and "legalization of incomes received in a criminal way" of the Armenian Criminal Code. If convicted he can face high fines and up to 12 years imprisonment.
"I've been invited to the National Security Service to be charged with money laundering and funds misuse. At this point, both the public and those involved in the probe believe the funds appropriation charge to be absurd. I'll face the NSS only because that's what the law demands; however, I won't be testifying," Oskanian said before entering the NSS building. He also expressed gratitude to his supporters who have launched a petition drive.
Oskanian was asked to present testimony as a "defendant" in the case but refused to answer any questions.
Oskanian was elected to Parliament in May representing the Prosperous Armenia Party. Last week parliament voted to allow his prosecution by lifting his parliamentary immunity. He has insisted that the investigation has been politically motivated and is an effort by President Serzh Sarkisian's regime to "step up pressure" on him for his criticism of the administration's policies.
The NSS did not restrict Oskanian's movement.
Last week former President Robert Kocharian, under whose administration Oskanian served as foreign minister, criticized the investigation and defended Oskanian.
The US Embassy in Yerevan also issued a warning last week saying: "We hope that this case does not represent a politically motivated and selective enforcement of Armenian law, as this would detract from efforts to promote greater transparency and reform in the legal, justice and legislative sectors in Armenia."