Representatives of the Party of European Socialists (PES) and Members of the Group of the Progressive Alliance of Socialists and Democrats in the European Parliament (S&D), are participating in the delegation which is on a fact-finding mission for the European Forum for Democracy and Solidarity, in Yerevan. The aim of the delegation is to form an opinion of the post-parliamentary election situation in Armenia, through meetings with political parties and civil society. The delegation is headed by the member of the Bulgarian Socialist party, MEP and Co-Chairman of Euronest's Parliamentary Assembly Kristian Vigenin and European Forum's Vice-President Jan Marinus Wiersma. The delegation also included María Muñiz de Urquiza, member of the Spanish Socialist and Labor Party, and of the European Parliament's Committee on Foreign Affairs, Edit Herczog, member of the Hungarian Socialist Party and of the European Parliament's EU-Armenia Parliamentary Cooperation Committee as well as André Gerrits, President of the Alfred Mozer Stichting.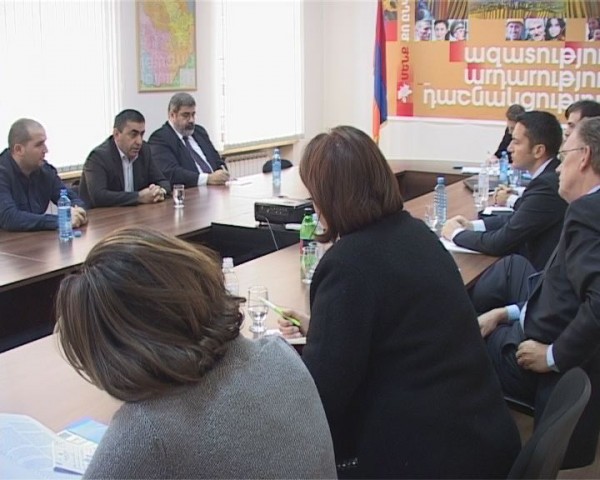 The delegation was received by, the ARF-D Supreme Council Chairman, Armen Rustamyan and Director of the International Secretariat, Giro Manoyan.
The delegation was interested in ARF-D's assessments concerning the current situation in Armenia as well as the past parliamentary and the upcoming presidential elections. They were also keen to know ARF-D's approach on Armenia's foreign affairs with her neighboring countries, especially the bilateral relation between Armenia and Turkey and the Mountainous Karabakh conflict.
The interlocutors also discussed about the relations between ARF-D and PES and issues of joint cooperation.
In the morning, the European delegation had held a round table meeting with four representatives from the civil society among which was the Director of the Hrayr Maroukhian Foundation, Maria Titizian.
ARF-D Press Office