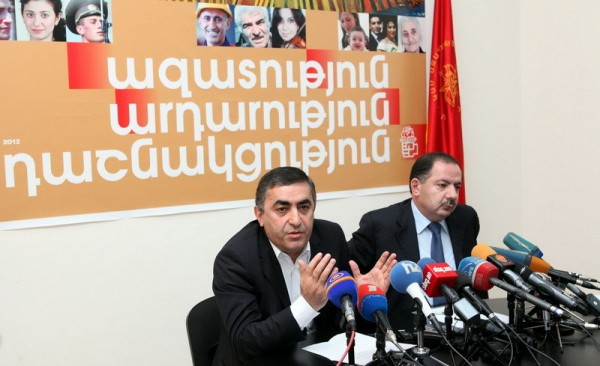 "Whoever becomes President cannot avoid taking under consideration ARF-D's political agenda" said ARF-D Armenia's Supreme Council Chairman, Armen Rustamyan during a press conference that was held at the party's "Simon Vratsyan" premises, today. According to tert.am Rustamyan said that the party will try to unite the population and added that "history tells us that whenever we have stood united we have been able in coping with challenges". "ARF-D doesn't run around the issue of who will be nominated candidate not because there aren't any in the party's ranks but because it's the country's fate that counts more" Rustamyan stressed.
News.am reports that ARF-D Armenia Supreme Council's Vice-Chairman, Aghvan Vardanyan spoke to the journalists about the Council's press release that was issued earlier. Specifically, ARF-D calls for changing to a parliamentary governance, passing to 100% proportional elections system, giving the opposition the tools to control the authorities, increase of the living standards' minimum budget, withdrawal from Armenian-Turkish protocols, a politico-military accord signing between Armenia and Mountainous Karabakh. Vardanyan said that ARF-D will hold discussions with other political parties and players around the abovementioned issues. It is after those discussions that the party will define how it will participate in the February presidential elections.
Vardanyan said it is positive that "Prosperous Armenia" (BHK) had also proposed conducting similar discussions but underlined that there was not such a provision in "Prosperous Armenia"'s parliamentary elections platform and that the party is new to this approach. Vardanyan didn't also exclude that this could be a pre-electoral tactical manoeuver from PA's part. He also announced that a meeting between ARF-D and Prosperous Armenia representatives is scheduled for this Saturday.
Asked if the second President, Robert Kocharyan is behind these propositions, Vardanyan said that ARF-D doesn't make decisions based on Kocharyan or any other person "ARF-D moves ahead based on its principles". "If Kocharyan had been in agreement with us, we would now have had a 100% proportional system" added Rustamyan.
The ARF-D representatives didn't refer to their or other parties' potential candidates but clarified that the candidate's issue will be decided by the party's Supreme Assembly.