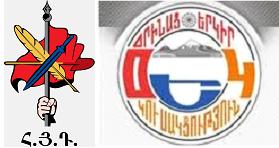 A scheduled meeting between Rule of Law Party (OEK) and ARF-D representatives took place on November 17. ARF-D Supreme Council members Armen Rustamyan, Aghvan Vardanyan and Arsen Hambartsumyan and Rule Of Law Party's Vice Chairpersons Heghine Bisharyan and Mher Shahgeldyan talked about ARF-D's seven-point platform.
Vardanyan told Yerkir.am said that it is important to make public the content of these meetings and therefore, in the coming days they will present details of the discussions that ARF-D holds with the political parties.
"Rule of Law Party realizes that this is a separate agenda put forward by ARF-D and doesn't confuse it with other propositions. In the end, Rule of Law Party's final decision will be stated by the political council" underlined Vardanyan. He also mentioned that since the ROL Party's position on the 100% proportional system and the system of governance is known they focused on the rest of ARF-D's proposals. "We presented the principle and our explanation of each point [of the platform] so they can have the whole picture. Surely, this is a preliminary meeting but judging from a first impression, our approaches on some points are almost the same and on some others are diverged" Vardanyan said and added that afterwards, ARF-D will also hold discussions with civil society, experts, political parties and active NGOs with the participation of the media, to which already the Rule of Law Party has agreed to take part.
Finally, Vardanyan said that all parties are equal before ARF-D, regardless of the position they hold and that the platform is presented in the same way to all; "the rest is for each political party to decide" he concluded.