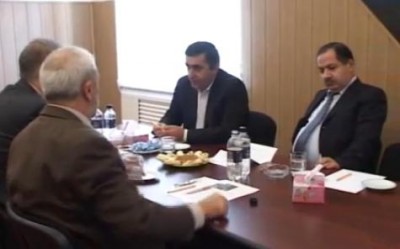 The almost two-hour long meeting between Armen Rustamyan, Aghvan Vardanyan from ARF-D and Levon Zurabyan, Aram Manukyan from Armenian National Congress (HAK) was hosted in the Parliament's building, on November 19.
Head of ARF-D Parliamentary Faction, Armen Rustamyan stated that the meeting touched upon ARF-D's seven-point platform and that while on some points the parties' approaches differ however their positions on the core of the issues are similar.
Rustamyan didn't exclude supporting with Prosperous Armenia Party (BHK) and ANC (HAK) a joint candidate for the upcoming presidential election and so did Levon Zurabyan.
"I wouldn't like to emphasize the points we had disagreements on, so we have a better prospect of reaching an agreement of a higher level later on, a prospect that I cannot exclude" Rustamyan said and underlined that this was a hope-inspiring meeting. He expressed his content that ARF-D's view to first talk about the platform points and then get into discussions about who the candidate could be, is being followed by the other parties as well.
ARF-D has also invited Heritage party (Zharangutyun), Free Democrats and Armenia's Republican Party (HHK) which according to Rustamyan is still examining ARF-D's invitation.