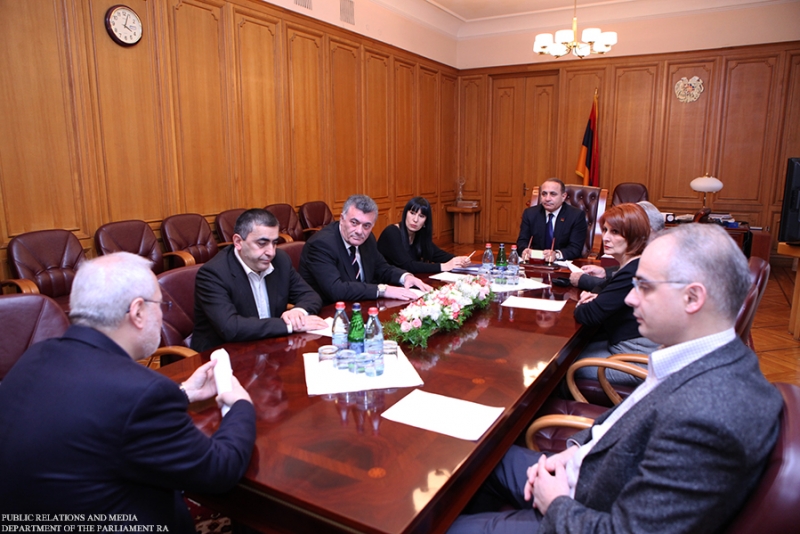 Representatives from all the parliamentary parties held a meeting today with Speaker Hovik Abrahamyan in order to assess the post-election developments. The Head of ARF-D Parliamentary Faction, Armen Rustamyan stated to yerkir.am "Our proposition to convene an extraordinary session was discussed but for now negotiations are essentially deadlocked. In the first place, the ruling power is against our proposal". As far as the three-point proposal submitted jointly by the Heritage party and ARF-D is concerned, the ruling power demanded from the opposition to retreat in order to discuss the proposal. According to panorama.am, Heritage and ARF-D propose a) conducting extraordinary parliamentary elections within a year, b) transition to a 100 per cent parliamentary republic system of governance within two years and c) granting to the opposition more control levers.
On the other hand, the rest of the political parties, the Armenian National Congress (HAK) in particular, are also opposed to the three-point proposal as a solution to the situation. "'The ANC says that those three points are not the solution to this issue but is not against at convening an extraordinary plenary session" Rustamyan said. The Rule of Law party agrees only to one point, the transition to a 100 per cent proportional election system, the forming of ruling power-opposition system to which agrees the Republican party (HHK), yerkir.am reports. The coalition parties and ANC have reservations regarding the transition to a parliamentary republic system of governance and the conducting of extraordinary parliamentary election. Rustamyan finds that the Prosperous Armenia party (BHK) positions are compatible with the ARF-D and Heritage positions.
"Negotiations are in a deadlock since an agreement hasn't been reached. It remains for the 1/3rd of the plenary to ask for an extraordinary session but we cannot say for sure that the Republican party will not boycott this session as well like it has done in the past" Rustamyan said.
Commenting on the meeting that was held yesterday between ARF-D and Heritage representatives, Rustamyan stated that they discussed about the prevailing political situation and the future steps that will be taken. Finally, Rustamyan announced that ARF-D will be present at tomorrow's (March 5) rally and will address the public.