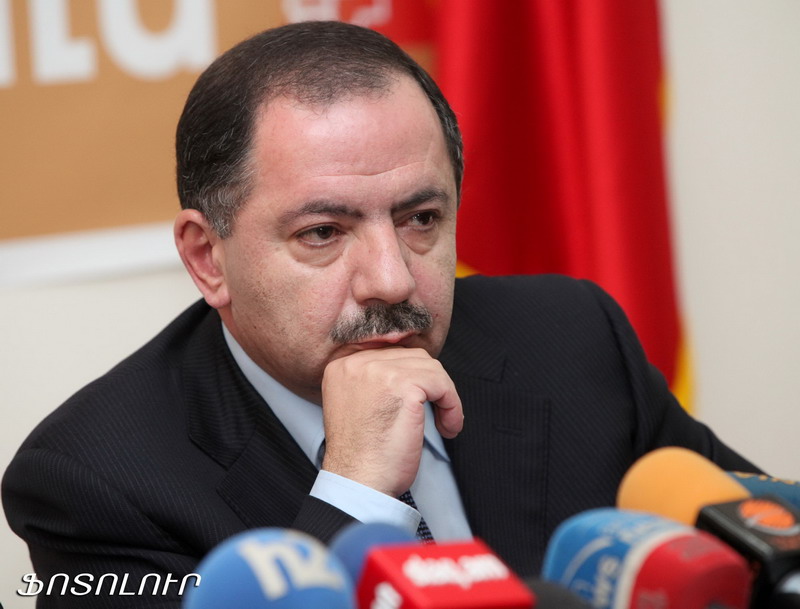 On March 26, ARF-D Supreme Council of Armenia, Vice Chairman Aghvan Vardanyan gave a press conference at Post Scriptum press club. Vardanyan said that these are political elections by the law that provisions a race to be conducted between the political parties but by their nature as well, no matter how much the ruling regime is trying to make them look like a local issue, a process only about the city's governance. Vardanyan, who holds the second place in the party's list of candidates, said that the people shouldn't focus on who is leading each list but rather, they should make a choice between the running political parties, armworld.am reports.
The ARF-D member pointed out that the Presidential election's outcome is still fresh and that a significant part of the constituency took this opportunity and expressed its disagreement and protest against the current system of governance and the ruling regime. Naturally, this will also be reflected on the Yerevan municipal elections.
Vardanyan said that there many cases in the world, where capital cities are governed by the opposition. In these cases, the existing mechanisms of counterbalance and restrain put forward competitiveness and make the city governance more effective, bringing along with them positive changes.
"Unfortunately, taking under consideration last year's parliamentary elections, ARF-D is a party of 5.5%. But I am sure that the real weigh of ARF-D, be that in politics or in the Parliament, is much more. We will work daily, we will include our entire structure so that we turn this into a political race and of course, to show our potential regarding city governance issues".
Vardanyan stated that the party will present to the citizens what makes it really different from the rest of the competing political parties. "We have a large team of experts and eminent personalities, we have principles. We are not a party of one. In all cases we kept our integrity and independence. We have made mistakes, we have flawed but we never derailed from our fundamental directives. This time we will try to convince voters, explain to them in an understandable way, what ARF-D is all about. Yes, we had trouble inspiring confidence to the constituency. But this time, we believe we will convince them in trusting us and voting for ARF-D" Vardanyan concluded.
According to armworld.am, ARF-D still believes that the choice not to nominate a candidate for this year's February 18 presidential election was correct since they believe that the outcome was predetermined. Presidential elections are single-mandate, with one winner whilst the case in Yerevan munical elections isn't so where elections are multimandated and proportional and the running political parties get the result of the work they do. Therefore, this is not the case of the "winner takes it all" leaving nothing to the rest. Vardanyan stressed that the party's intention wasn't the belittling of suffrage, by not running for the presidential election. If there is a way to change things in the country then that should be through the process of elections, he said.
As for the Yerevan municipal elections, Vardanyan said that any political party with self-esteem cannot but run for them. "The ruling regime has already started making use of the administrative resources but we have to fight against it" Vardanyan stated.