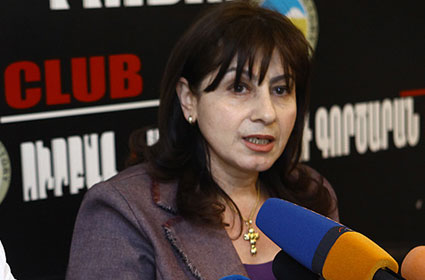 ARF-D member and former MP, Ruzanna Arakelyan believes that the party is running a successful campaign, yerkir.am reports. "Siding with us are those who value very much the future of our country" Arakelyan said during a meeting with media representatives. She then highlighted the major differences the ARF-D platform has with the ones of the other political parties.
Arakelyan pointed out that ARF-D proposes the creation of a commission that will overlook Yerevan city's budget and the leadership of which will be assigned to the opposition. As far as the similarities between the platforms are concerned, Arakelyan underlined that although almost all parties refer to balancing the development of Yerevan, it was ARF-D that first raised this issue. "When we compare the glaring city center to the suburbs we witness an enormous difference between them" she said and added that in terms of environmental protection Yerevan is the last among the cities of our region.
Commenting on the Yerevan municipal election Arakelyan criticized the ruling regime for trying for the second time, to make it look like a choice about who the mayor will be. She noted that fear prevails everywhere and gave the example of the region of Avan where the citizens watched the ARF-D local meeting from their windows. This atmosphere does not only halt the process of forming a political culture but also distorts the people's moral profile. Finally, Arakelyan mentioned that it is a matter of principle for ARF-D not to tempt the people. "Life has showed us that all elections that were conducted under corruption have mutilated the fate of our people. For us, the fate of each citizen is equally important" Arakelyan stated.