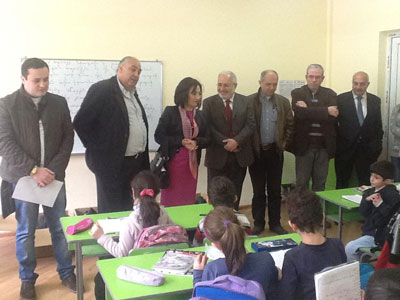 The "Help Your Brother" civic initiative hasn't ceased its activities for the relief of the Syrian Armenians. On the contrary, it continues implementing projects for the Syrian Armenians that have settled in Armenia and in Mountainous Karabakh.
On April 23, "Help Your Brother" co-ordinators, Vahan Hovhannesyan, Lilit Galstian and Khachig Djozigyan visited the Kilikia school which applies the Syrian educational program and accommodates almost 300 Syrian Armenian pupils. The purpose of the visit was dual:  familiarize with the implemented educational system and distribute the previously promised gifts donated by "Metzn Nerses" charitable Foundation; all the children received a pair of Toms sport shoes.
The "Help Your Brother" promised to continue with more joyful surprises for the young Syrian Armenians and to always pay a special attention to their needs.