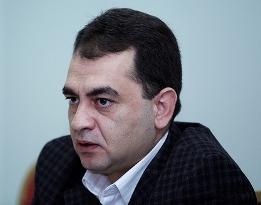 ARF-D Supreme Council of Armenia Vice Chairman, Arsen Hambartzumyan estimates that election fraud took place outside the polling station, aravot.am reports. This is why, ARF-D didn't ask for recounting of the votes in any polling station, contrary to what the Armenian National Congress (HAK) and "Hello Yerevan" coalition (Barev Yerevan) demanded. Hambartzumyan said that the activities of the electoral commissions and the pre-election campaign were normal, but the main fraud was realized with the use of administrative resources and vote-buying. ARF-D proxies and electoral commissions' members supervised the process in such a way that didn't allow space for election fraud. Therefore, there is no need to appeal. There is no way to appeal for whatever took place outside the polling stations, he said.
Hambartzumyan also said that all the complaints reported to the party's "Hotline" were passed on to the police. "Our members gave all the necessary explanations on the reported incidents, but we saw no real results. Whatever was taking place outside the polling stations could have been easily stopped had there been any will" said Hambartzumyan.
The ARF-D member explained that the low turnout was the main reasosn the opposition parties got so little votes. The second reason, according to Hambartzumyan was vote-buying and abuse of the administrative resources and the third one was that the citizens didn't believe that through the Yerevan municipal elections they could bring any change to the capital, much more in the entire country. The oppositional parties must reflect on this fact and analyze why wasn't it possible for them to inspire the citizens the belief and the consequent opportunity that they have to change the current state of affairs in Armenia.
The identification of the state with the ruling party played its part as well, believes Arsen Hambartzumyan. In this case, the oppositional parties had the state machine against them making the sides unequal. Finally, another reason was not satisfying the public's demand; a demand about a united oppositional front which wasn't delivered.
As to why the "Hello Yerevan" coalition got the most votes among the oppositional parties the ARF-D member said that the main reason for passing the 6% threshold was the short time between the presidential and the Yerevan municipal elections which worked in favor of the coalition. However, Hambartzumyan noted that in terms of both absolute numbers and percentages, the coalition got fewer votes than Raffi Hovhannesyan did at the February presidential election. The "Hello Yerevan" and all the participating parties marked a setback, argued Hambartzumyan.