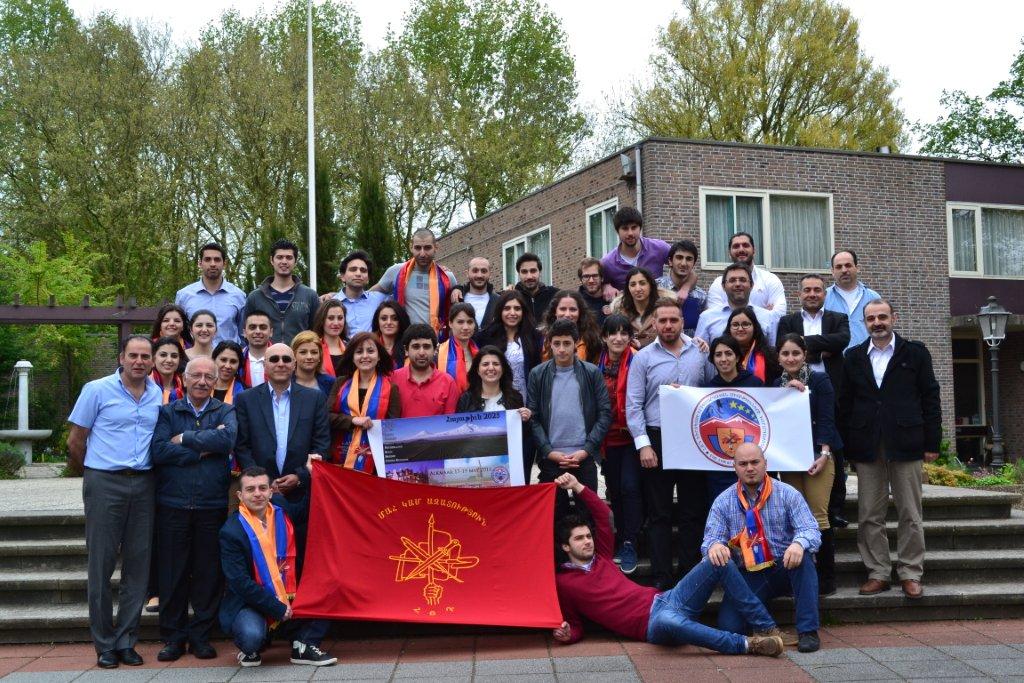 Upon the initiative of the AYF "Garegin Njdeh" Netherlands chapter and with the coordination of the ARF-D Youth Office, 42 participants from the Armenian Youth Federation (AYF) Sweden, United Kingdom, Germany, Austria, Bulgaria, France, Greece and Netherlands chapters held a conference on May 17-19, in Alkmaar, Netherlands. ARF-D Bureau member Mkrtich Mkrtichian, the head of the ARF-D Youth Office, Sargis Mkrtchyan and ARF-D members from Europe also attended the conference.
The main theme of the conference was "Armenians in 2025". The conference aimed at evaluating the present state of the European chapters of AYF and defining ways on how to have a bigger role to play within the political sphere.
At the conclusion of the three-day conference and after the presentations of reports and assessments, and of results of the workshops, the conference adopted the following resolution:
A. Armenians in Europe, and in particular the Armenian youth in Europe must work so that in 2025 the European Armenian communities are more organized and the bond with Armenia is stronger. Therefore, it is necessary to reorganize and activate the European Armenian communities and enhance the activities of the various organizations of Diaspora with the purpose of keeping inalterable the Armenian language, culture, identity and character.  
B. The European chapters of AYF must increase their efforts in the direction of the recognition of the Armenian Genocide, the compensation and the pursuit of the rights of the Armenians. In that sense, the action plans to be drawn must be more realistic. Work must be performed for the official recognition of the free and independent Artsakh. A struggle for the providing of the rights of the Armenians of Javakhk must be put in motion.
C. We must vividly follow and assist to the solution of the political, social and other problems of the Republic of Armenia, which in its turn will contribute in an upgrade of the Armenia-Diaspora relations.
D. It is necessary to draw and initiate preventive actions so as to neutralize the anti-Armenian activities of the Turkish-Azeri diaspora that is growing and getting organized day-by-day.
E. The European Armenian youth must undertake a bigger part within the Armenian Cause activities and in connection with countering the challenges that the Armenians are facing. Therefore, it is necessary to train ideology-centered, active and conscious young people who will be capable and ready to contribute in all the activities that are devoted to Armenians and to the Armenian nation.
The conference ended with a determining enthusiasm of both expanding the range of activities and increasing their effectiveness.
ARF-D Youth Office