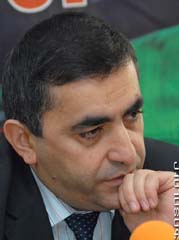 ARF-D Supreme Council Chairman, Armen Rustamyan is convinced that the government with its social-economic, domestic and foreign policies is driving Armenia to a state of force majeure, azatutyun.am (RFE/RL) reports.
According to Rustamyan the authorities perceive themselves as very solid, and that entails quite a bit of a risk, which they don't see. "If they think that they will rule for the next 4-5 years, they are gravely mistaken. We notice certain tendencies in society that could lead us to a force majeure situation. Mistakes in foreign policy have already brought Armenia face to face with such challenges… I'm talking about about domestic issues; failures in that area have limits, they can cause such an extreme situation where in terms of society and economy, policy could be defaulted" said Rustamyan.
The ARF-D member underlined that the authorities in Armenia are no more in position to solve the problems of the country and in time those problems could question the very existence of the Republic of Armenia. "Emigration, for instance," he said "which despite reassurances given by the President and the government, not only hasn't been reduced, but on the contrary it has been increased even according to official data".
Rustamyan told azatutyun.am (RFE/RL) that from September the ARF-D will resume with new efforts aiming at bringing the opposition together and at changing the state the country is in. "There are two roads: elections and uniting the people so it carries and claims the power that was taken by it through the previous elections" concluded Rustamyan.