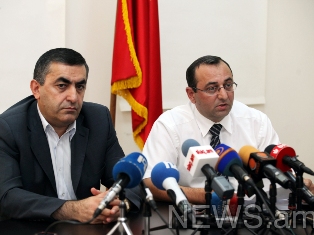 Today, at a specially convened press conference ARF-D Supreme Council members, Armen Rustamyan and Artsvik Minasyan presented the party's "We will live in our country" plan against emigration, yerkirmedia.am reports. The 11 directives and 95 operations comprising this plan, will not only counter emigration which has reached the proportions of being a threat to national security but will also create favorable conditions for immigration. Rustamyan said that in order to implement this plan, all stakeholders –the authorities, civil organizations and the media must be included.
Minasyan, an economist himself, presented the various components of the plan which include reforms in different aspects of life. Both Rustamyan and Minasyan, who are also members of the ARF-D Parliamentary Faction, stressed that the plan is not a closed document but it's open to discussions. The first open discussion about it, will take place tomorrow with the participation of psychologists and sociologists.
"Under our approach, the issue of emigration will be solved only when a complete change of regime is achieved, as perceived in our seven-point platform. But until then we have to stop the bleeding. Emigration resembles to body bleeding; we are bleeding and we cannot allow it to reach blood strain levels. We have to put an end to this so that the body regains its strength. The body is our country, our state, our homeland. To wait for a complete change of regime would be a tactical mistake" Rustamyan argued.
"The purpose of this plan is not just about saying the final truth. That will be confirmed and crystallized during the discussions with the various groups within the society. This is not a partisan plan. To make it happen, it must obtain a national plan status. We are the ones proposing this plan and we are the organizers but we hope that everyone –the regime, the opposition, the active civic sector, the media, the Church, representatives of the Diaspora, the youth will engage in the dialogue so that this plan turns into a national platform" added Minasyan.