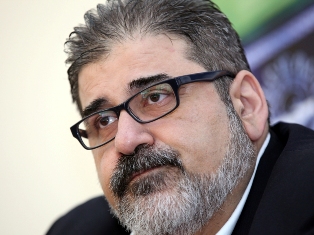 (source: azatutyun.am RFE/RL) – On November 20, Head of the ARF-D International Secretariat, Giro Manoyan told media representatives that his party is worried and discontent with the vagueness surrounding the Customs Union joining process because there is no concrete information about it and that "is not a sign of anything good" he said.
"Vagueness causes discontent because this behavior is not right, is not acceptable and that is why it is necessary to clarify the conditions concerning the membership process. The issue of power concession shouldn't be exploited. In reality, it is natural to voluntarily give up something in order to be a part of any union. However that must be the case for every part meaning that all the member-states of that union must give up sovereignty equally. And if that is not going to be so –there is also a vagueness on this- then there is a problem" said Manoyan.
Azatutyun.am (RFE/RL) also reports that the ARF-D member said that, in principle his party is not against either the Customs Union or the EU Association Agreement but stressed that both these processes must be transparent.
Manoyan stated that the government's rash of having "some things ready" on February gives also reasons to worry about.
Asked about what party members in the USA, Europe and the Middle East think about Armenia joining the Customs Union, Manoyan replied that the existing vagueness is a sufficient reason for the "party's position not to be definite".
As for the upcoming meeting between Putin and Erdogan and the subsequent visit of Putin to Armenia Manoyan said that "the warming of Russian-Turkish relations might contain some risks for us" and added that this is the reason why we should wait to see what will the Putin-Erdogan meeting's agenda will be in Saint Petersburg until the Russian President's visit to Armenia. "These two states have come so close that there is surely a political side to this, meaning close political relations that could influence the Armenian-Russian relations negatively" concluded Manoyan.