On November 30, a two-member delegation of the Armenian Youth Federation (AYF) took part in the pro-Kurdish Peace and Democracy Party (BDP) Youth Congress in Tigranakert (Amed, Diyarbakir). The delegation was comprised of AYF's Armenia chapter members, Rupen Janbazian and Sarkis Degirmenjian.
The IUSY member organizations were invited to the Congress. Youth representatives from various countries had arrived to attend this event.
More than 30.000 BDP members and supporters were gathered at the at Tigranakert's Seyrantepe Sport Hall where the Congress was convened.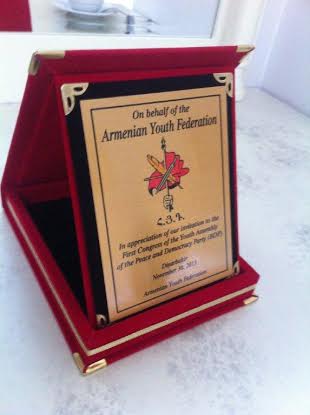 The AYF delegation delivered a speech first in Armenian and then in Turkish. Greeting the first BDP Youth Congress, the AYF focused on the past relations between the Armenian and Kurdish peoples and the present challenges that they both face emphasizing on the potential of the present Armenian-Kurdish relations and of their cooperation and underlining that it must be based on mutual respect bearing in mind the interests of both peoples.
After the speech, the AYF members presented the BDP Youth Council members with a commemorative plaque.
BDP is the only parliamentary party in Turkey that has recognized the Genocide of the Armenians. BDP was founded in 2008 and is a consultative member of the Socialist International.
ARF Youth Office